[ad_1]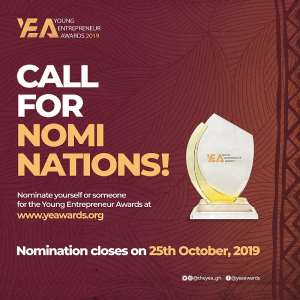 Organizers (Youth Business Network Foundation) of the prestigious awards scheme for young entrepreneurs has announced nominations for the 2019 edition of the Young Entrepreneur Awards (YEA) opens on Monday, 14th October, 2019.
YEA is an annual awards event that celebrates outstanding young entrepreneurs whose initiatives will go a long way to lessen the burden on the job market and inspire other young people to become job creators instead of seekers.
Benefits of winning the award include a plaque, an opportunity to be featured on Entrepreneur One on One Talk show, networking opportunities with investors and mentors, travel opportunities to Germany, Amsterdam and Spain, among others.
The award is one of the Foundation's actions to achieve its aims and objectives, which is; connect young and potential entrepreneurs, investors and mentors together, use the skills and creative passion of young entrepreneurs to inspire and provoke others to rise to the challenge of being job creators instead of job seekers, unearth and discover the hidden potentials in the youth and offer strategic assistance, and build the capacity of the youth to be able to create their own businesses and manage them profitably.
Speaking to the Executive Director of the scheme, Solomon Adjei hinted a very bigger event this year, with continuous support from key institutions such as the Ministry of Business Development, NEIP, NYA, McDan Foundation, Child and Youth Finance International, Commonwealth Youth Council, among others.
He encourages the public to visit www.yeawards.org to nominate deserving entrepreneurs below age 40, to be honored and celebrated.
He calls on all entrepreneurs within the said age bracket to also visit the website to nominate themselves, and anyone they deem fit, before the nomination ends on 25th of November.
Solomon commended iSupreme Company Ltd and EBN TV, being tasked to lead the publicity of this year's event.
[ad_2]
Source link