[ad_1]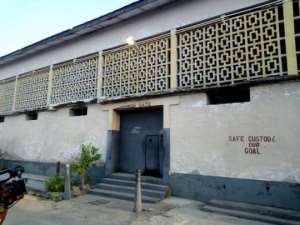 The Winneba Prisons which is expected to house 80 inmates is now accommodating 204 out of which 46 are remand prisoners.
Assistant Director of Prisons (ADP) Augustine Bompa, said the increased number of inmates was affecting their operations in terms of providing beds and food to them.
He made this known when the Justice for All (JFA) programme held sittings at the Winneba Prisons.
ADP Bompa who is charge of the Prison, noted that the ongoing Justice For All (JFA) programme would go a long way to ease congestion.
According to him people who were on remand would have opportunity to secure bail thereby reducing the number of inmates.
ADP Bompa said they have been receiving funds from Prisons Headquarters to undertake renovation work on the over 200 year old Winneba Prison structure, but 'the funds were currently not forth coming'.
The Winneba prison, visibly in a distasteful state and has cracks all over. The exterior of the prison is crying for paint.
GNA
By Joyce Danso, GNA

[ad_2]
Source link