[ad_1]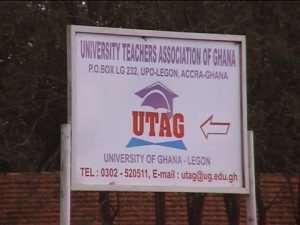 The University Teachers Association of Ghana (UTAG), has insisted that it will not back down on its plan to strike should the government fail to immediately pay them their 2017/2018 book and research allowance.
UTAG said it will not heed to the government's unofficial calls for them to rescind the decision.
The President of the Association, Eric Opoku in a Citi News interview said they have written to the Finance Ministry over the allowance, and issued it a deadline for the monies to be paid, else they will lay down their tools.
Mr. Opoku said;
"We will not change that position until we have seen the monies in the accounts of the respective public universities in Ghana. We have also had a formal communication with the government and they have not responded. The deadline has not expired and no communication has formally come from government and therefore we wait to see what happens."
"We had communicated with the Ministry of Finance formally through a letter, giving them the deadline of 15th. If they government thinks that they have taken tangible steps to ensure the payment of the book and research allowances, I as a the President of the Association expects that we are communicated to formally but not through the media. As at now, we have decided on the 31st [July] and we still stand by that decision."
Minister of State in charge of Tertiary Education, Professor Kwesi Yankah, had earlier urged the members through a media interaction to rescind their decision to embark on the strike.
"I am requesting them to untie the red bands and lower the red flags [because] we are working towards the welfare of UTAG… Within the next week or so, they ought to be receiving their allowances…The Controller and Accountant General's department has processed material from the Ministry of Finance. There are two or three batches of documentation that are provided. The first two were received and have been processed and should be at the Controller and Accountant General's department at the moment," Kwesi Yankah said.

[ad_2]
Source link