[ad_1]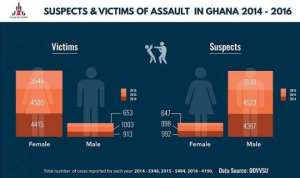 Management at Visuals for Gender, an open data project Non Governmental Organisation, has urged the Ministry of Gender and Social protection to do more to curb assault cases in the country through research across the 10 regions.
The Ministry is also to embark on educating the public, engaging stakeholders as well as come up with policies that could assist in reducing incidences of assault.
A press released signed by Mrs Florence Toffah, the Director of Visuals for Gender, and copied to the Ghana News Agency said that facts from data visualization provided proved that assault cases were more widespread than the few reported cases in the media.
Mrs Toffah said data sources from Domestic Violence and Victims Support Unit (DOVVSU) also indicated that the number of cases reported was usually based on the relationship that existed between victims and suspects of assault.
She said: 'most assault cases are perpetrated by members of the victim's nuclear and extended families', adding that, 'in 2015, the number of cases reported for the nuclear family setting was the highest recorded in the graph presented to us'.
Mrs Toffah pledged their preparedness to support the Ministry to bring the perpetrators to book to curb the incidences of assault.
She said the total number of cases reported for each year in 2014, 2015 and 2016 sum up to 5,348, 5,494 and 4,190 respectively.
In 2014, she said, 4,415 females were assaulted as compared to 913 males. Also, 4,500 females as to 1,003 males and 3,546 females as to 653 males were assaulted in 2015 and 2016, respectively.
On the other hand, 4,367 males and 992 females in 2014 were reported to be suspects of assaults and 4,522 males and 998 females as well as 3,533 males and 647 females were also suspected of assaults in 2015 and 2016, correspondingly.
Criminal Code of Ghana (1960), Act 29, Section 84 states that 'Whoever unlawfully assaults any person is guilty of a misdemeanor' and section 86 indicates that battery is a form of assault, she added.
However, the sector Minister, Madam Otiko Afisah Djaba in a communique expressed disappointment, saying, 'I would like to take this opportunity to remind Ghanaians that gender-based violence is an offence and punishable by law, irrespective of whether you are a father, husband, boyfriend, mother or relative'.
She said human rights were guaranteed by law and therefore every child had the right to be protected and respected, hence relatives who violate these rights must be accountable for their actions, adding, that this was enshrined in the Children's Act 1998 (Act 560).
GNA

[ad_2]
Source link