[ad_1]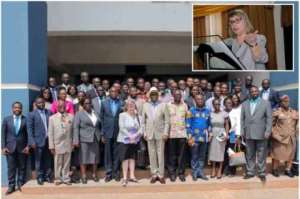 Professor Catherine Gerald, Director, Programme for the Advancement of Research on Conflict and Collaboration at Syracuse University, United States of America, has underscored the need to focus on the quality of public servants.
She said there was a need to uphold neutrality in the face of increasing politicization and the most obvious solution was to maintain and even expand the protective structures in the face of reforms.
She said as governments moved to more complicated structures and politicization became more imaginative, laws that previously worked might have to be reviewed and shored up.
Prof Gerald said this in her public lecture at the launch of the Institute of Work, Employment and Society (IWES) and IWES's at the University of Professional Studies, Accra (UPSA).
The lecture was in line with the commemoration of International Labour Day; and was on the topic; 'Neutrality of the public service in the face of increasing politicization'.
Prof Gerald was of the view that two areas left to explore that might have impact in this era of increasing politicization were information and people, adding that 'simply, information needs to be abundant and accessible'.
She said one of the most important pieces of legislation President Bill Clinton put in place was the Government Performance Review Act, which required each agency to have a strategic plan, performance measures and cascading measures to inform individual performance evaluation.
She noted that this was a significant way of introducing transparency and objectivity into a politicized system.
Prof Abednego Okoe Amartey, Vice-Chancellor UPSA, said he was confident that the relevant ideas and research findings generated by IWES would go a long way to inform policy decision-making.
He said it will also inure to the benefit of both the employer and the employee, for a peaceful labour front and accelerated economic development of Ghana.
The Vice Chancellor said IWES was an institute engaged in policy-driven research and advocacy in areas of work, employment and societal issues.
He pointed out that it also focused on capacity building through training programmes such as managing tier two and three pension funds; cross-cultural management; planning for retirement and pension.
The rest are occupational health and safety practices and disaster management; employee relations and labour management in Ghana, and strategic human resource and succession plan.
Prof Amartey was therefore, hopeful that key stakeholders such as Ministry of Employment and Labour Relations, the Gender Ministry, labour unions as well as the academic community would support the Institute in its activities particularly undertaking research and advocacy.
Dr Mary Naana Essiaw, Director of IWES, said it was a well known fact that Universities such as UPSA were being urged to generate relevant and quality research that would address sustainable Developmental Goals (SDG) and the nation's socio-economic development.
She said IWES believes that societal issues are quite broad and within the next few years, IWES wanted to align itself with some of the SDGs set up the United Nations in 2015 to end poverty, protect the planet and ensure prosperity for all by 2030.
Dr Essiaw said IWES would focus on some of the SDGs including 'Decent work and Economic Growth; Industry, Innovation and Infrastructure; Quality Education and Gender equality'.

[ad_2]
Source link