[ad_1]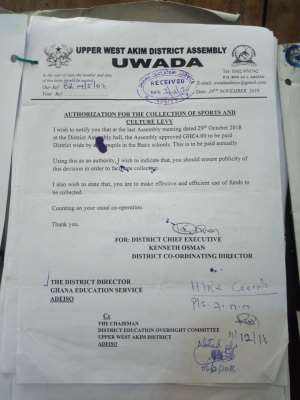 Cited copy of the circular
The Upper West Akim District Assembly in Adeiso in the Eastern Region has thrown away Government's policy by demanding each school pupil in the district to pay 'self' approved fees for Sports and Cultural Levy.
In a recent circular dated November 29, 2018 and signed by the District Chief Executive Officer (DCE) Kenneth Osman, the District Assembly tasked the various heads of schools to collect an amount of GHC 4.00 from each pupil being sports and culture levy.
The said amount is to be paid annually, an attempt which clearly violates the provisions in Capitation Grant of which government agreed to absorb such levies and fees in basic schools in the country.
A statement issued by the Executive Chairman of the Ghana National Education Campaign Coalition (GNECC) is calling for the head of the District Chief Executive of Upper West Akim for inflicting more hardship on the innocent children.
"We call on the Minister of Education and the Minister of Local Government and Rural Development to sanction the District Chief Executive of Upper West Akim and order him to refund to parents any money received under these illegal fees. The Ghana Education Service must issue a directive to all basic schools in Ghana urging them not to pay any fees."
Mr. Kofi Asare noted that the posture by the DCE is against the constitutional provision and government's policy of providing free compulsory universal basic education.
According to him, the Capitation Grant which was introduced in 2005 provides that no child should be burdened with any additional costs under the guise of sports and culture.
He stressed that the directive, which does not only fly in the face of efforts to realize SDG4 is also unconstitutional.
"We finally call on the Director General of the Ghana Education Service to investigate the role of the District Director of Education who happens to be a member of the District Education Oversight Committee (DEOC), the body that recommended the illegal fees," he posited.

[ad_2]
Source link