[ad_1]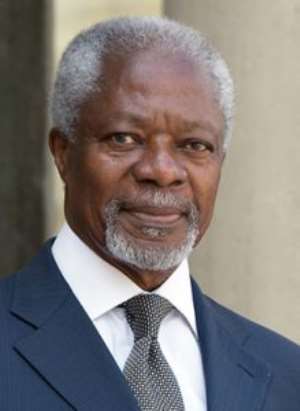 In April I started my tribute to Kofi Annan on his 80th birthday with this quote: "To live is to choose. But to choose well, you must know who you are and what you stand for, where you want to go and why you want to go there." These are the powerful words from Mr Annan himself, words that have made an indelible mark on both my professional and personal lives.
Kofi Annan, the 7th Secretary General of the United Nations (UN), led the organization through some of its biggest reforms and through some tough growing pains to build a stronger, more capable organization. He worked to bring peace across the globe and his efforts on the African continent—partnering with member nations on poverty alleviation and conflict resolution in particular—helped stabilize the continent and usher in an era of peace.
On a personal note, I have long admired his adventurous spirit, one that he encouraged in me and others, to seek divergent career paths that ultimately would make for a better employee, and a better organization. He himself had taken a circuitous route to his role as leader of the world's most important global body, and he left a strong mark. Long after Mr Annan left, he was spoken of fondly by staff who remembered not just his work, but his calm, intellectual personality that was a much-needed influence in the organization.
The last time we met was in January, earlier this year. We joked, we laughed, and his sage advice and blessing gave me a personal boost as I sought to wade into Nigerian politics as a presidential candidate. He was thrilled, and he said he thought it was time that capable younger men and women such as myself took over the leadership of important countries like Nigeria.
In my tribute, I wrote that his was a "life of consequence", not merely because he, like, Nelson Mandela, had achieved the feat of projecting a positive role model for black African excellence like few others had, but because he also sought to change the world—and did.
Like millions of people around the globe, I will miss this great man. My sympathies and condolences go out to his family, his wife Nane Annan, his children, and to the people of Ghana who have lost a well-respected elder statesman.
Kofi Annan chose, and chose a life well-lived. May his soul rest in perfect peace.
Signed
Professor Kingsley Chiedu Moghalu,
Presidential aspirant,
Young Progressive Party (YPP)

[ad_2]
Source link