[ad_1]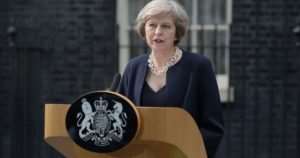 How long can she stagger on? Who will the next Prime Minister be? Does anyone else in her party even want the job?
The speculation around Theresa May's grasp on leadership is unmatched in the recent history of British politics.
You could be forgiven for thinking that leading Britain toward Brexit was a mantle to covet for a Conservative member of Parliament hoping to steer the country toward the romantic, sunlit uplands of independence from Europe.
But no. And while Brexit is May's poisoned chalice, it was merely passed to her by her predecessor.
The Conservative Party has been in turmoil since at least the 1980s over Europe. Former Prime Minister David Cameron called the EU referendum precisely to settle the question of Britain's relationship with Europe once and for all and prevent a split in his party.
"It is time for the British people to have their say," he said in January 2013. "It is time to settle this European question in British politics. I say to the British people: this will be your decision."
Two years after Britain voted narrowly to leave, the European question is far from settled, and the Conservatives are more divided than ever.
May is reeling from a string of resignations, and now the highest-ranking Tory yet — former Cabinet minister Justine Greening — has implored the government to put country before party and hold a second referendum on Brexit.
Source: cnn.com

[ad_2]
Source link