[ad_1]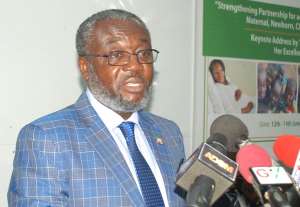 Dr. Nsiah Asare
The Director General of Ghana Health Service Dr. Nsiah Asare has called backed the reason behind the protest of the Adenta residents but condemned their decision to block the road.
Speaking to the media in Koforidua Friday at the sidelines of the Opening Ceremony of the Ghana Medical Association 60th Anniversary Dr. Asare said: "As a country we have to let the laws work if there is no Zebra crossing first you dare not cross. So if you cross you will be arrested and prosecuted. But here people cross the road anyhow.
"And the second point is that even where there is zebra crossing sometimes the human beings will stop and wait for the vehicles it is also wrong immediately somebody steps on the zebra crossing as a vehicle you are supposed to stop and let the person pass but here they want you stop for them to pass. That one too is unlawful so the first thing we have to do is let our laws work".
Residents of Adenta and its environs went on rampage Thursday burning car tyres on the highway to register their displeasure over the rampant pedestrian fatalities and injuries on the highway due to lack of footbridges. The rampage led to many injuries as police fired tear gas, warning shots and and rubber bullets
The Ministry of Roads and Highways has announced that work on the six (6) uncompleted pedestrian bridges in Adenta will commence within a week.
Temporarily, the Ministry in collaboration with the Interior Ministry has requested the Ghana Police Service to deploy officers of the Motor Traffic Unit to prevent further deaths.
According to Dr .Nsiah Asare, ideally, double lane roads like the Adenta-Madina road needs Footbridges siding with sentiments of the residents, but condemned their riot.
He said it is time the law enforcement agencies stop increasing penchant of people for lawlessness .
"I believe that if these things are happening and somebody dies because the driver didn't stop and the person also used a wrong road , so what should happen is not for people to take the laws into their own hands that one too is becoming unbecoming in this country where people quickly will do anything because something has happened ….let's go and burn tires ! let's go and do this! that one also should stop".

[ad_2]
Source link