[ad_1]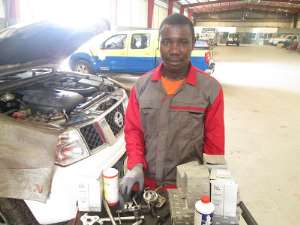 Often seen in dirty oiled attire, a mechanic is mostly not given that respect due to the nature of the work . it is one profession which is very complex in nature.
Basically, the task of an auto mechanic is to diagnose and rectify problems or faults on a motor vehicle or any machine with an internal combustion engine such as a generator set.
An auto mechanic can be freelance, work for an automobile company or any setup that needs such skill set. It is mostly a male dominated field but there are equally good female mechanics around.
The public perspective of the craft is not that pleasant but there is more than what meets the eye. For an auto mechanic to be good at the craft, he / she should posses the following
Good Diagnosis skills
Just as a doctor diagnose a patient to find out what kind of sickness he/she is suffering from, it is the same thing done when it comes to the auto mechanic and a vehicle by asking the car user some questions. This is even difficult when the user of the vehicle has little or no knowledge about the technicalities of it. Current technology has equipped them with diagnosing tools but even with that, the auto mechanic has to be skilled to use it. So, there is a doctor in every mechanic.
Dismantling and Installing
This is another difficult aspect of a mechanic's job. Dismantling a mechanical assembly and installing it back the right way takes the best of skill even if you have a reference material. This skill is most needed when working on an engine or transmission system of a vehicle. As the engine is often referred to as the heart of a vehicle, this task can be compared to that of a cardiothoracic surgeon. A single mistake can lead to malfunction of the vehicle which may cause an accident and kill many people.
Good Mathematician.
Every top notch needs to be very good at mathematics. For every part fixed, methods and procedures to be used, number of turns to dismantle a component etc. Even to calculate the distance your vehicle has covered to know what kind of maintenance to carry out needs some knowledge in mathematics.
Communication skills
This can be in a verbal or written form. This is a skill not possessed by many in all fields. You would find a good banker but poor at communicating figures and situations to his/her clients. It takes a good communicator to explain to his / her client the technical issues surrounding the vehicle and give assurance to the car owner that the vehicle will be back to a good state.
In a written form, auto mechanics who work in dealerships and other well setup industry write reports. They do this on major works where the problem has been recurrent. So that their report is used as a reference for future works. This is a skill which is even scare in most cooperate institutions.
Qualification
For a person to be qualified as an auto mechanic, a basic technical training by an accredited institution is required. TAKORADI TECHNICAL INSTITUTE offers an auto mechanic program. Also, MOTOR VEHICLE TECHNICIAN (MVT) and Higher National Diploma courses are offered at technical universities. Higher programs such as degree in mechanical engineering are offered in various universities. A technician can be a sales person in an auto firm, a maintenance officer and even an accident investigator in an insurance company.
Role in nation building
The role of an auto technician can and should never be underestimated in the development of our country. Road transport is a major cog in the economy of Ghana and make over 80% of our transport system. Without well maintained vehicles on our roads, the progress of the country will be halted.
So, anytime you see an auto mechanic or visit the workshop, accord them the respect that is due.

[ad_2]
Source link