[ad_1]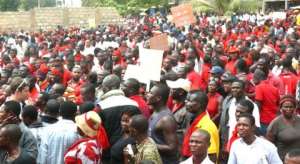 Members of the Community One Cooperative Transport Union are holding crucial meetings and soliciting support from sister unions to protest against Nii Anang La, Tema Metropolitan Chief Executive (MCE), for 'taking away a TMA allocated loading point from them.'
They will also demonstrate against the Community One Police for ignoring their plea to prosecute a group of people who beat up and molested one of their members and stole their loading board.
Mr Edward Atitso, President, Community One Site Twenty Co-operative Transport Society Limited, confirming the union's activities, said the MCE ignored their numerous pleas to end the illegal occupation and brutalities meted out to their members.
According to him, a group of people who claimed to be friends of the MCE and members of the New Patriotic Party (NPP) had connived with the MCE to deprive them of the place.
Narrating events that led to the takeover, he said the union had operated from the place for the past six years under the rules and regulations of the Assembly.
'We were asked by the Assembly to move to another place for construction work to take place. About three months ago, we saw a group of drivers loading at the same place we were told was under construction, 'he said.
He said, 'So we reported the matter to the TMA transport Director, Mr Edem. He called both parties to a meeting in his office. The leader of the group told all gathered that the place had been allocated to them by the Tema Metropolitan Chief Executive.'
'As law abiding citizens, we have resisted all attempts to avenge the brutalities meted out to our members hoping that some peace, law and order would take place but we were wrong hence our decision to come into the open to tell our story and see the way forward,' Mr Atitso.
In a response, Mr Frank Asante, Public Relations Office, TMA, said the Assembly had had series of meetings with the transport operators at the disputed sites which had resulted in the visit of the MCE to the transport terminal.
Subsequent to that, the TMA agreed with the transport operators to form a task force which would monitor the peace and security of the area.
According to the PRO, the TMA had come out with a list of persons from the Assembly who would be part of the task force, and that they were waiting for the transport operators to come up with the names of their members for the task force to commence operations.
He also observed that the MCE had consistently notified the District Police Command on the need to secure the area hence the regular visits by the police to ensure peace and safety.
Meanwhile, Mr Stephen Kwakye, Community One Police Commander, had told the Ghana News Agency that the Cooperative had lodged a complaint about the destruction of their property.

[ad_2]
Source link