[ad_1]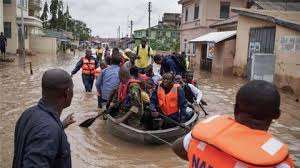 File Photo
The body of a 50 year old mother of three, Susanna Kudanu, who was drowned during a heavy rain down pour that hit Kumasi and its environs at Asabi in the Asokore Mampong municipal in the Ashanti region on Thursday, June 28, 2018, is yet to be found, despite a thorough search by the family members and the community as NADMO retrieves four bodies from River Sissa.
The dress-maker, who hailed from the Volta region, together with other four people including her own three children and an apprentice, got drowned in the evening on the fateful night when their shop got flooded with water from River Sissa which had over flown its banks.
The four, Diana Abuga, 25, Louisa Kudanu Delali 13, Mona Lisa Mensah, 12, Christian Wolanyo Mansu, were found dead in the shop after the water in the shop was drained but Susanna Kudanu, the owner of the shop was not found.
A deceased family member, Miss Louisa Kudanu, who spoketo Otec News' Isaac Nsia Foster on Tuesday, July 2018, said they are worried that for the past five days the body has not been found, "we are still searching for her, the rescue team is doing their best and though she is dead, we need the body for a befitting burial.
"Per our customs in the Volta region, the bodies have to be sent to the village for other rites to be performed before burial and once one is missing, we cannot send the four. So for the time been, the four has been deposited at the Ebenezer Mortuary Services at Tafo in Kumasi, while search is on for Sussana," she added.

[ad_2]
Source link