[ad_1]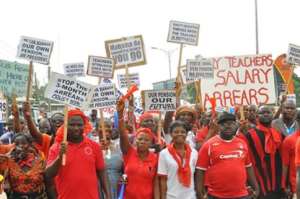 A group of teachers identified as victims of salary arrears have vowed to march to the Ministry of Education tomorrow, August 8th, 2018 and demonstrate. They say Government is owing them salary arrears of 5-8 months and if Government fails to settle them before tomorrow, they will demonstrate at the Ministry to express their grievances.
In an interview with Moderghana.com, leader of the group David Kwaku Xevu revealed that all efforts to communicate with Government and the Ministry of Education to settle their arrears for them have proved futile. That is mainly what has necessitated their decision to march to the Ministry and picket.
"We are going to picket at the Ministry. We will demonstrate to exercise our constitutional rights and then fight for out course. That is basically why we are doing this", he said.
He also cautioned that if they do not get their money soon, they are going to take the matter to another level which will not be friendly. He opines that the actions that they might take will be "annoying" even though it will be in line with the constitution.
"If we do not get out money, what we shall be doing, I don't want to say it will be annoying but it's still part of our constitutional rights. But we are going to exercise that and the whole Ghana will know that it is time teachers had risen and we are not going to sit".
Mr. Xevu also revealed that some of their senior colleagues whose arrears have not been paid to them since 2012 will be joining them on Wednesday to march to the Ministry of Education to demonstrate as a body.
He is of the strong view that they have waited for far too long but cannot wait any longer that's is why they have decided to go ahead of the demonstration tomorrow.

[ad_2]
Source link