[ad_1]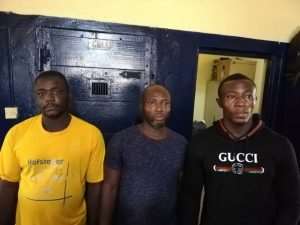 Lawyers for the suspects in the fatal shooting incident that occurred at the National Democratic Congress (NDC) office in Kumasi, Ashanti Region have begun processes to move the case to the High Court to enable them to seek bail for their clients.
The lawyers were absent in court on Tuesday after police brought in the suspects.
The case has been adjourned to May 21, 2019.
The Asokwa District Court in March declined an application to grant the three bail.
In all, 12 persons were declared wanted by the Ashanti Regional police command but three persons reported themselves to the police.
The suspects are 40-year-old Dauda Ibrahim alias Wayo, Abdul Ganiu, 37, and Samuel Agyin alias Rock who is 32 years old.
But relatives of the deceased are calling on police in the Ashanti Region to step up efforts at arresting the remaining suspects in the case who are still on the run.
The deceased brother, Tanko Iddris told Citi News the family will continue to push for the arrest of the suspects despite what he described at reluctance on the part of police to pursue the suspects.
—Citinewsroom
[ad_2]
Source link