[ad_1]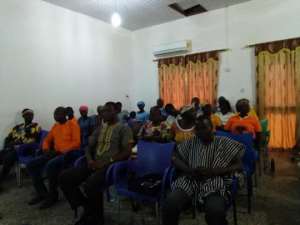 Government's flagship programmes in the area of agriculture have failed to prominently feature organic agriculture in terms of inputs support and certification, according to a research finding.
The study, conducted by the Coalition for the Advancement of Organic Farming (CAOF), an NGO, showed that organic agricultural practices in Ghana were considered to be mainly farmer and private sector initiative with no full-scale support from the government.
This, it said, had been the case in spite of the declaration by the African Union (AU) for all member countries to mainstream ecological organic agricultural practices into national policies.
Ghana is yet to develop a specific policy on organic agriculture.
The study said this had largely accounted for the implementation of key programmes like planting for food and jobs, one district one factory and dams construction without an organic component.
The research sought to find out 'the extent to which organic agriculture has been considered in current agriculture policies and programmes under the Appropriate Inputs and Certification for Organic Farming Project', in some selected municipalities and districts in the Upper East and Northern Regions.
These include the Bolgatanga and Kassena-Nankana Municipalities, Bongo, Nabdam, Talensi, Bulisa South, Bulisa North, Garu/Tempane, Binduri, Kassena-Nankana West Districts in the Upper East Region.
The others are the Tamale Metropolis, Bunkpurugu/Yunyoo, West Mamprusi, East Mamprusi and Gushiegu/Karaga Districts in the Northern Region.
The study was funded by the Business Sector Advocacy Challenged (BUSAC) Fund and its development partners including Danish International Development Agency (DANIDA), the European Union and the USAID.
The findings were disseminated at separate forums in Bolgatanga and Tamale.
It found that although a Food and Agriculture Organization (FAO) funded project had established an Organic Desk at the Ministry of Food and Agriculture, responsible for spearheading organic agriculture related activities, there was no specific Organic Agriculture Desk at the MOFA offices in the seven districts and the two regions where the research was conducted.
Mr Gerard Lapointe Agana, the Coordinator of CAOF, said one of the key objectives was to establish the extent to which organic agriculture had been considered in current government policies, plans and programmes on agriculture.
The research had established the fact that 'to a very large extent, current government policies, plans and programmes on agriculture have not given considerations to organic agriculture'.
He added that the findings would be used as an advocacy tool to engage policy makers and the government to give serious attention to the sector.
Mr. Vincent Subbey, the Monitor of the BUSAC Fund, urged the Coalition to help the people to have better understanding of the importance of organic agriculture.
That would lead to organic movement and grassroots-based organic food production, consumption and marketing using local organic market outlets.
He said that would assist smallholder farmers to lobby government for legislation regarding organic inputs and certification.
CAOF has been working closely with farmers in Ghana to promote organic farming.

[ad_2]
Source link