[ad_1]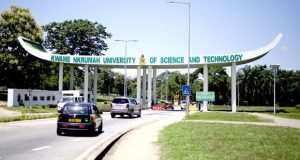 The Kwame Nkrumah University of Science and Technology (KNUST) is expected to be re-opened today after a violent student protest led to it being closed down for over three weeks.
The students will be returning to a significantly altered academic calendar which will see them write their final exams after a Christmas break.
Some students who spoke to Citi News expressed their eagerness to resume academic activities.
"I am expecting that we will at least complete the syllabus because per the timetable that is out, we will be writing exams after the Christmas break," one student said.
"I was expecting it to take that long for them to arrive at a decision for us to return to school. I don't know about lectures in other programmes but for my programmes, lectures are quite proactive so everybody is going to get back to work, that is what I am expecting really," another said.
Lectures have already expressed satisfaction with the turn of events that led to the school being reopened.
The University Teachers Association of Ghana (UTAG) said it will ensure that its members will work to recover the time lost and called off the strike it had started over the dissolution of the KNUST Governing Council.
Samuel Boadi Kusi, the National Secretary for UTAG, said "Once they [students] come, UTAG is ever ready. All other sister unions are ever ready to make sure we teach," he added.
The previous KNUST governing council was dissolved after management-student tensions were deemed untenable.
The government constituted an interim University council after it closed down the school which angered some unions in the school leading to the strike.
But a new council was eventually constituted and sworn-in , adding only six new members.
The new members comprising Nana Effah Apenteng, a retired diplomat and Omanhene of Bompata traditional Area; Hilda Hagar Ampadu, public health specialist, Stephen Anoff Amoaning-Yankson, President of the Ghana Institute of Engineers, Alex Quaynor, a private legal practitioner, Nana Agyei Baffour Awuah and Alhaji Yakub A.B. Abubakar.
Background
The protests started after the arrest of 10 students and one alumnus of the school.
The students were arrested for a holding vigil on campus without permission, according to the school authorities.
The Executive Council of the SRC said the demonstration was needed to convey students' frustration over disrespect and oppression by the school.
The Police arrested 20 students following the protest which turned violent. A day later, the school was closed down indefinitely.
The destruction was estimated at GHc 1.6 million.

[ad_2]
Source link