[ad_1]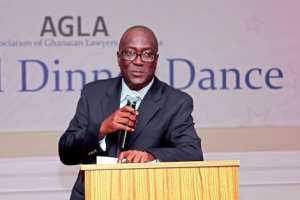 The Executive Director of the Centre for Democratic Development (CDD), Professor Henry Kwasi Prempeh, has warned that the "revolving door" of special assistants recruited by various ministries is contributing to the erosion of the civil service.
He told Citi News that partisan interference in the civil service had been allowed to fester over the years.
"There has been a lot of interference in the workings of the Civil Service over the years; no doubt about that. We have done a lot to inject partisanship in many different forms into the service," Prof. Prempeh said.
The excuses used to hire such special assistants, consultants and the like have no basis, the CDD boss added.
He noted that one of the key reasons given for such recruitment was the lack of competence. Some civil servants whose roles are replaced by the new recruits are known to have been forced to proceed on leave or rendered redundant.
But there are other ways to improve competence like investing in training and human resource development, Prof. Prempeh noted.
In the long run, he argued that the culture of the so-called special recruits contributes to the reduced quality of the core civil service.
"…If you are not doing that, you are using the excuses of the Service not being fit for purpose as the reason not to use it, then you are further weakening the Civil Service. We have circumvented the Service by taking advice from other sources and by letting the job that civil servants have to do be done by other people and over time, the civil servants have been demoralized."
Complaints from Civil Service Staff
The Civil and Local Government Staff Association of Ghana (CLOGSAG), raised concerns over what it called government's interference in the structure of the Civil Service.
CLOGSAG complained about breaches of employee privacy, audit-related infractions and the culture of recruiting special assistants, among others.
The Association on April 30 gave the government a 14-day ultimatum to recall all civil servants compelled to proceed on leave in favour of hired special assistants.
CLOGSAG made specific mention of the Ministry of Finance and its Minister, Ken Ofori Atta, on the issue of recruiting outsiders to play critical roles in the ministry.
Replacing public sector workers unacceptable – Minority to gov't
The Minority in Parliament has also described as unacceptable, the replacement of some public sector workers by the government.
It has thus declared its support for the campaign by organized labour to impress upon the government to cease the practice.
In a statement signed by the caucus leader, Haruna Iddrisu, he said many of the workers who have been removed from their officers are now facing "excruciating levels of hardship and misery."
"we wish to join Organized Labour in demanding that Government respects the inalienable right of workers to security of tenure without undue harassment and political intimidation," the statement said.

[ad_2]
Source link