[ad_1]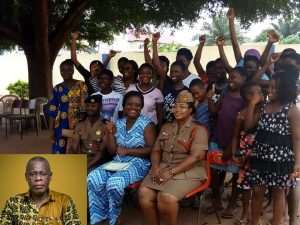 The Ghana National Fire Service (GNFS) has advised that every home should have an appropriate fire extinguisher.
The extinguisher can be used at the beginning stages of a fire to avoid escalation and subsequent damage to lives and property.
The advice was given by DO1 Harriet Anyeley Nunoo, District Fire Officer of the University of Ghana Fire Station, Legon.
She was speaking at the SMART Girls Vacation Clinic held at the Sky-High Preparatory School in Ashongman Estate in Accra.
DO1 Nunoo explained that although an extinguisher may be seen to be expensive, it is a good investment considering the cost of a fire outbreak.
Officials of the GNFS also advised participants to avoid overloading their main sockets and extension boards as this could cause overheating and subsequently trigger a fire outbreak, adding that although extension boards may have spaces to plug in enough appliances, it is not always safe to do so.
Participants of the SMART Girls Vacation Clinic were teenage girls drawn from the Ashongman Estate/Dome communities of the Ga East Municipality in Accra.
According to the Programme Organizer, Mrs. Shirley Ferguson-Avornyo, the Clinic is a community development initiative that seeks to bring together teenage girls for the purpose of educating them on socio-cultural and civic skills in a fun environment.
Participants were taken through basic first aid practices, civic rights and responsibilities, the benefits of volunteerism, good menstrual hygiene as well as basic etiquette. They also had reading and traditional dance sessions.
The two-week vacation Clinic also sought to imbibe in participants the tenets of sincerity, meticulousness, ambition, resilience, and teamwork. These tenets represent the acronym for SMART, the name of the programme.
Mr. William Tsegah, the proprietor of the Sky-High Preparatory School, one of the oldest private schools in the Ashongman Estate community, lauded the initiative.
He noted that his belief in inculcating good morals into the new generation of children motivated him to offer his support for the programme.
He pledged to play host to the programme every year and encouraged participants to live by what they have learnt at the Clinic.
Resource Persons included Zenatha Ali, a civic educator; Portia Bansa, a heritage and culture expert; Klenam Normanyo-Tandoh, founder of Read Ghana; Nana Akua Ampim-Darko, a health practitioner; Mrs. Margaret Cudjoe, an educationist; as well as Rejoice Agboka and Jacob Bruce, all performing artistes.
Multi-Pro Private Limited, distributors of Indomie, supported the Clinic with souvenirs and boxes of Indomie.
Organizer of the Clinic, Mrs. Ferguson-Avornyo hinted that the Clinic will be held during the long vacation periods and called for more sponsorship and support so that the programme can continue to be free for the participants.

[ad_2]
Source link