[ad_1]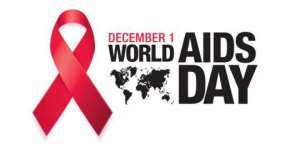 Preparations reached its peak in Ho, Volta Regional capital as scores of people thronged national celebration of this year's World AIDS Day.
The event attracted chiefs, heads of Decentralised Departments and Agencies, religious leaders, students, health workers, civil society organizations and non-governmental organizations.
This year's World AIDS Day was celebrated under the theme, 'Test, Treat to Suppress and Stop New HIV Infections," alongside the global theme of "Know Your Status."
Scores of public sensitisation programmes including media engagements, and health outreaches characterised the build-up to the event across the Region by the Ghana AIDS Commission.
The United States President's Emergency Plan For AIDS Relief (PEPFAR), marking its tenth anniversary in Ghana this year, is in Ho with 'Heart to Heart' Ambassadors preaching against stigmatisation and discrimination against people living with HIV condition.
PEPFAR's activities included training for health journalists reporting on HIV, radio interviews and outreaches at health facilities, markets and school, where voluntary counselling and testing were done.
Ms Naomi Mattos, Press Attache at the US Embassy said HIV was no longer a disease but a condition and called for an end to stigma and discrimination.
Mrs Mary Naa Ashley Anyomi, the Volta Regional Technical Coordinator, Ghana AIDS Commission, Technical Support Unit, at a media launch said the Region was using the opportunity to host the national commemoration to extend its campaign to the unreached.
The Commission had had an outreach at the Ho Central Mosque and scheduled a public lecture on: 'sociocultural perspective of HIV prevention, treatment and care' at the University of Health and Allied Sciences (UHAS) and a health walk to herald the national durbar at the Jubilee Park, to be followed with a thanksgiving service on Sunday.
Mrs Anyomi called for concerted efforts to achieve the 90-90-90 targets with the ultimate goal of ending AIDS in 2030 in line with the Sustainable Development Goals.
Dr Archibald Yao Letsa, the Volta Regional Minister, in a speech read on his behalf, stated the readiness of the Regional Coordinating Council to support the region to reduce the pravalent rate.
—GNA

[ad_2]
Source link