[ad_1]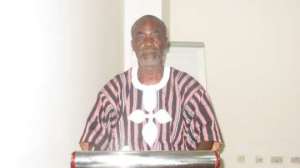 Head Messenger, Ebenezer Mintah Henaku, Global Moral Consultant and Publisher, Founder and Leader of the Global Religion and Global Government, has urged Ghanaians to uphold moral uprightness.
'The moral state of the nation smells and needs a fragrance now,' Messenger Henaku stated at a press conference in Accra.
He said Ghanaians must put an end to moral vices such as bad governance, territorial and non-territorial vices, corruption and sexual abuse, immoral talks, indecent dressing, envy and hatred, drug Abuse, excessive alcoholism and cigaretting.
The rest are idolatry, laziness, disrespect to authorities' visitors, disrespect to parents/adults and superiors, hiding behind the scenes to sow seeds of discords, opening of minor healed wounds, occultism and witchcraftcy, environmental degradation and pollution.
He said drug abusers, both suppliers and users like cocaine, heroin and India hemp, cigarette producers and smokers and excessive alcoholic users, should also be made to stop.
'For sexual abusers like adultery, pre-marital sex without the focus on marriage, children below 18 having sex, gaysm like bestialities, homosexualities, lesbianism with rapes and prostitution should all be punished,' he said.
He suggested that defaulters must be given six months imprisonment with hard labour to serve as a deterrent to others.
GNA
By Iddi Yire, GNA

[ad_2]
Source link