[ad_1]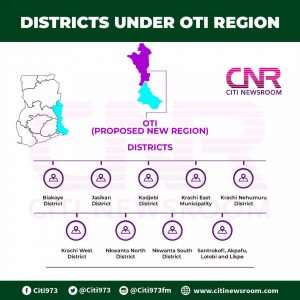 Residents in the districts under the proposed Oti region have voted resoundingly in favour for the creation of the region despite the controversies surrounding its creation.Official results from the Electoral Commission on the referendum held on Thursday, show that a total of 319,216 voted in favor of the region polling 99% of YES votes as against 2,878 residents making 1% of NO votes.
Per the results the upper part of the now existing Volta Region will now be know as the Oti Region.
Per the Electoral Commissions' Constitutional Instrument for the creation of new regions, there should be a 80% vote in favor of the new region and a voter turnout of 50%.
Some districts that participated in the referendum included; Biakoye, Jasikan, Kadjebi, Krachi East, Krachi Nehumuru, Krachi West.
The rest are; Nkwanta North, Nkwanta South, Santrofi, Akpafu, Lolobi and Likpe.
Going into Thurday's referendum, the relevance or otherwise of the Oti region was one of the most contested amongst other proposed regions.
Citi News' B.K Aklama earlier reported a high level of voter apathy in some districts as there were no persons seen voting for a long period.
Presiding officers in the districts also reportedly interrupted media coverage of the elections at certain points after an order restraining them from granting media interviews on the election process so far.
The Volta Regional chapter of the Ghana Journalist Association subsequently issued a statement condemning the Regional Police command.
Security agencies in the Volta region earlier this week also warned of heightened tension in the northern parts of the region.
Their warning was in the wake of the uncovering and retrieval of a cache of weapons at Alavanyo-Dzogbedze in the Hohoe Municipality on December 24 – two days to the referendum.
Weapons retrieved included sub-machine gun (SMG) rifle No. 63254 and a locally manufactured short gun with large quantities of ammunition.
Several groups emerged after Government's decision to create the new regions, most of which opposed the creation of the new region.
Some Chiefs in certain parts of the Volta Region also vehemently campaigned against the creation of the regions.
It was widely reported in the media that two chiefs demanded that their towns be exempted from the proposed Oti region however the demands fell on deaf ears.
Chief of Akpafu traditional area, Nana Kofi Adu II, said Akpafu and Lolobi towns should not be included because they have not be part of towns that petitioned the President demanding the creation of the new region.
Source: citinewsroom.com | Ghana

[ad_2]
Source link