[ad_1]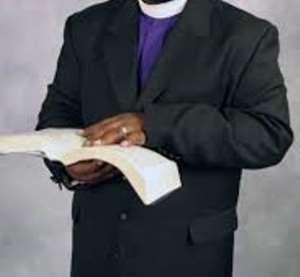 Superintendent Minister of the Methodist Church of Ghana, Dzorwulu Congregation is warning of Armageddon if African countries legalize homosexuality.
Bishop Stephen Bosomtwe Ayensu said any attempt to kowtow to the whims and caprices of Western countries like the United Kingdom will be the beginning of 666 referred to as the number of the beast or Antichrist in the New Testament.
When the Methodist Bishop was speaking on Adom FM's morning show, Dwaso Nsem on Wednesday, He explained that the beast is a symbol of the worldwide political system which rules over every tribe and people and tongue and nations.
He also said the Western world is pushing for Africa to accept to be under the manipulation of the beast with seven heads and ten horns.
He stated that "Pressure to legalize homosexuality is the beginning of 666 because any governments that opposes it will be deprived of funds to run their countries".
Bishop Bosomtwe Ayensu feared that many African countries could be forced to overhaul "outdated" anti-gay laws because "we are not self-sufficient".
He warned that if Christian don't wake up from their slumber, gays would be handling the day-to-day administration of countries in the near future.
The Methodist bishop complained on how Christians have taken things for granted when God has given them dominion, authority and control.
He stated that the laxity of Christians to be in mainstream politics will see homosexuals being voted into power to enact laws such as gay rights.
Bishop Bosomtwe Ayensu added that, if gays find their way to the reins of government in Ghana and hijack Christianity, they will decide who to worship for the rest of the populace.
He therefore called on government, Council of State and Parliament to state, clearly, Ghana's position on homosexuality to avert any pandemonium.

[ad_2]
Source link