[ad_1]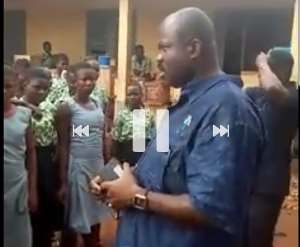 An Activist of the opposition National Democratic Congress (NDC) in the Garu Tempane Constituency, Mr Emmanuel Bukari has been invited by the Tempane Divisional Police CID over a video which has gone viral on various social media platforms, involving an Aspiring National Organizer of the NDC, Mr Joshua Akamba and students of the Tempane Senior High School in the Upper East Region.
The Police CID was accompanied by the Headmaster of Tempane Senior High School and the Garu Tempane NPP Constituency Secretary, Anabida Isaaka.
The invitation by the Police is believed to be an intimidating tactic, influenced by the Member of Parliament for the area, Joseph Dinkiok Kpemka who is also the Deputy Attorney General and Minister of Justice.
Mr Joshua Akamba, who was on a tour of the Upper East Region as part of his campaign for the National Organizer position of the NDC, paused to interact with the students of the school,amidst chantings like "NDC", "JM 2020", "NDC 2020" when they saw the NDC colours on his car.
The video captured the students complaining bitterly to Mr Joshua Akamba about their living conditions in the school, the congestion in the various dormitories leading to the outbreak of bed buds and bemoaned the reckless nature in which the noble free Senior High School programme is being implemented by the Akuffo Addo led government.
The Police has since being threatening to arrest all NDC Activists who were with Mr Akamba in the school.

[ad_2]
Source link