[ad_1]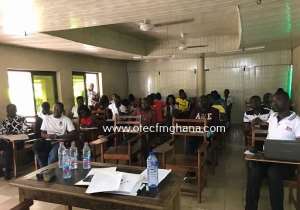 Kumasi based leading private commercial radio station, OTEC FM, today Saturday, September 22, 2018 held a day's training programme for its numerous employees.
The employees were trained as part of measures to improve worker-efficiency, and also OTEC FM Ghana's resolve to equip its staff to enable them deliver world class services aimed at maintaining its status as number one commercial station in the Kumasi Metropolis.
According to the Management of the company, given their growing market appeal and wide listener base, it has become necessary to adapt to international best practices, hence the training.
An ace journalist, Kofi Adu Domfe who facilitated the training workshop said the independence of journalists do not only enhance their profession, but also build their credibility that will allow the audience to consume their works to their benefits.
According to the multiple international award winner, lack of consistence lack of professionalism in their works, shows their biases and it creates an avenue for people to question your will objectivity and end loosing respect from the audience.
"Independence of the journalist is very important because it smacks of ability to withhold your biases, the ability to forgo any nuisances that comes with discomfort of a subject. So as a journalist, work is to ask the relevant questions and feeds the audience with credible information for the public to take their own decisions," he said.
According to him, once your credibility is affected, there is no way your audience will respect your personality, consume your works and will lose their respect.
"If the public knows you have set your own agenda, you will end up feeding the public with personal information which are bias, the target audience will not benefit from your work because you have taken your stands already. Once you lose their respect, they will not consume your work," he echoed.
The CEO of Institute of Business Management and Journalism (IBMJ), Philip Owusu Fordjour, lecturing on the topic "Agenda Setting", urged media practitioners to look at interested issues that are of public concern to discuss.
"As a journalist, you must not follow the bandwagon, that is, you must toe the line on what the other media houses are discussing. You must set your own agenda and that can be done through research which is also done by asking the public relevant questions to know problems affecting them," he added.
"That's the mark of a professional and genius journalist," he concluded.

[ad_2]
Source link