[ad_1]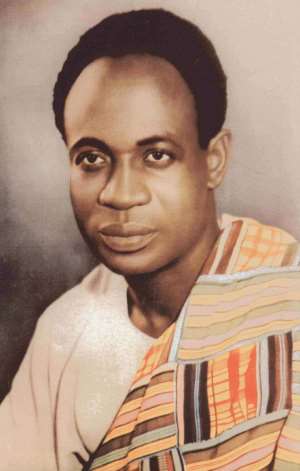 Dr. Kwame Nkrumah
Nkrumah wanted us to be kings and queens, he wanted us to prosper, he had seen how rapidly nations were growing and he thought we could do same. He actually said the Ghana/Africa he was building was one that restored dignity and respect for countrymen and blacks as a race. In his words when he uttered those electrifying simple words; "at long last, the battle has ended and Ghana, your beloved country is free forever", he pronounced that he wanted us to be "somebody everywhere we found ourselves on earth."
His own rose against him, nation reckers, perpetrators, traitors, boot lickers and educated illiterates. They ousted him like a thief. That day was the doomsday, it was the beginning of our end, our suffering and our curse. The black man has never progressed because he's not progressive, the black man does not typically think forward and straight, he puts a step back and three steps rapidly backwards.
The balck man is typically good and smart at political robbery, thievery, hypocrisy, mediocrity, corruption and disregard for common sense and laws. Even when exposed to simple and complex logic, he's capable, yes, capable of interpreting it in a way that suits him. Depending on his circumstances, his principles change, thus if he has any at all.
Nkrumah looks back today from the grave and cries, I know it, because as a people, we have failed our predecessors, our forefathers who toiled for our sake. Their thought was that posterity (which is you and I today) would judge them, this served as enough push for them to give out their best. Can we say posterity will be proud of us? Our country was better before, we have collapsed everything.
Today, a black man will never make any sacrifice for his neighbor, neighborhood, community or country. He doesn't care who suffers for his action, it's just him, close acquaintances and family.
Today, Kwame Nwai Kofi Nkrumah's children are still beggers, slave in their land and professional thieves and robbers.
Every morning, after my morning devotion, I come out to see whether my country has changed for good, the only thing that changes is the sky, sometimes white, sometimes blue.
But I have hope, it's one precious thing I have, like many other Ghanaians, I know that one day, things will get better. It might look gloomy today, tomorrow, tomorrow next or even years, but things will definitely get better, no matter how long it takes. We don't quit because we are tired, we only quit when we are done.
May God bless our Homeland Ghana.
Long live Dr. Kwame Nkrumah
Long Live the Big Six.
Happy Founder's Day people.
©General Sammie
2018

[ad_2]
Source link