[ad_1]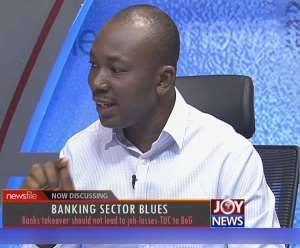 Government has been urged to prioritise recovering assets of shareholders and directors responsible for the collapse of seven banks despite public calls for prosecution.
Economist Professor Godfred Alufar Bokpin said on Joy News analysis programme Newsfile Saturday, he does not "believe in jailing people if there is an opportunity to recover what is lost with some interest."
Government in June 2018, pumped $461m to cover liabilities of two failed banks – Capital and UT bank. This has not stopped it from announcing another $1.2bn to cover the failures of five more other banks that bit the dust in August 2018.
The staggering bailouts will cover UT Bank, Capital Bank, unibank, Royal Bank, BEIGE Bank, Construction Bank and Sovereign Bank who are small players in the lending ladder of Ghana's previously 34 banks.
Emerging details of the failed bank crisis point to a shocking laxity in complying with the central bank's regulations as well as the complicity of the regulator in shirking enforcement responsibilities.
With public seething over the failures of the regulator and the regulated, the Christian Council of Ghana wants to see directors of the collapsed banks face the law.
Speaking on the bank failures, Head of Economics at the University of Ghana expressed sadness that hardworking bank staff with difficult sales targets to meet collect these monies only for shareholders to dissipate.
It has emerged in an exclusive report that founder of erstwhile Capital Bank Ato Essien used 80m cedis of depositors cash as his "personal piggy bank."
Prof. Bokpin said how these shareholders used depositors funds is traceable within Ghana's financial system. "It is not like some powerful forces just descended and took away these monies" he said and called on state authorities to chase after the money."
"It is not lost money provided we are able to recover all these monies," the economist said.
The professor stated, his preference "is to go for recovery before we hand people over" but expressed worry that the capacity of KPMG to recover assets of shareholders and directors."

[ad_2]
Source link