[ad_1]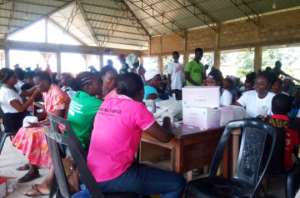 As part of activities to mark its 60th anniversary, the Central Region branch of the Ghana Medical Association (GMA) over the weekend organised free health screening exercise for residents of Ntranoa and surrounding communities.
Residents in the Komenda Edina Eguafo Abrem (KEEA) Municipality of the Central Region were screened for health conditions and ailments such as blood pressure, hypertension, blood sugar, diabetes, eye disorders, skin diseases, Hepatitis B, prostate cancer and malaria through the Rapid Diagnostic Test, among others.
Medical personnel from the Cape Coast Teaching Hospital, Adisadel Urban Health Centre with health personnel including laboratory technicians, pharmacists, dieticians, dermatologists and otolaryngologists, examined the people and offered appropriate advice to them.
The beneficiaries were also educated on good eating habits, and sensitised on the need to exercise and check their health status regularly.
It was supported by Tobinco Pharmaceuticals, Kingsway pharmacy and Union square Pharmacy.
Dr Justice Arthur, Central Regional Chairman of the GMA, told the Ghana News Agency that the Association decided to undertake the medical outreach to bring healthcare to the doorstep of deprived communities where people could not afford medical delivery.
He said due to poverty, many of the beneficiaries have not been undertaking regular medical check-ups resulting in poor health of many of them.
Dr Arthur said there were several hidden ailments in people which could be identified through medical screening for early detection and urged people not to wait until it gets to the terminal stage before reporting to the hospital.
'People come to the hospital to see doctors and are sometimes very shy and afraid. By moving into the community, people will know that we exist to seek the health of Ghanaians' he said.
Dr Arthur said those who had serious health conditions had been referred for further medical attention, while those with minor ailments have been treated and given free medication.
He was worried about the recent eating habits of Ghanaians which had contributed to the increasing number of chronic lifestyle diseases, particularly among the youth.
'Now people are not active, they do not exercise, they are not mindful of what they eat. People want food which contains more sugar, salt, spices and we have a lot of people abusing alcohol and tobacco. All these things put people a getting non-communicable diseases' he stated
He said the country was battling to stamp out infectious diseases and unfortunately communicable diseases were scaling up, adding that this was a 'Double Burden of Diseases' in the health service'.
Mr Samuel Atta Mills, Member of Parliament for the KEEA constituency, who participated in the exercise, described it as apt and timely and commended the GMA for showing love towards the members of the community.

[ad_2]
Source link