[ad_1]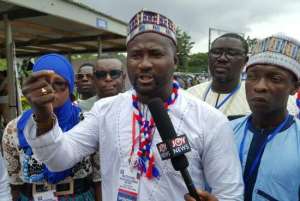 A National Nasara Coordinator hopeful, Ali Suraj, is passionately appealing to the leadership of the New Patriotic Party (NPP) to reconsider the date set for its upcoming national delegates congress, as the event will coincide with the 2018 Muslims' celebration of Eidul-Fitr.
"The celebration of the Eidul-Fitr, is one of the sacred events observed by Muslims around the world. This years celebration falls between June 15 to 16, 2018", Mr Suraj noted.
Coincidentally, the leadership of the NPP has slated June 15 to 17, 2018, as dates for the party's national delegates conference.
The crash in dates, according to Mr. Ali Suraj, might lead to many muslims within the NPP fraternity, snubbing the very important national delegate congress to observe the Sallah celebrations.
He said considering how the NPP recognizes the efforts of the Zongo community in its progress, it will be in the interest of the party to change the date of the congress to help the muslim community actively participate in the exercise.
Ali Suraj in an exclusive interview posited that the Eidul-Fitr celebration is extremely important to Muslims and involves numerous activities which can take at least 3 days.
"The NPP has demonstrated since its inception that it is a party for all. There are many policies which were specifically introduced to help develop the Zongo Communities in the country", he stressed.
He added that, "these include the creation of a special ministry for Zongo Development, absorption of many taxes on Hajj, giving two muslims the chance to serve as vice presidents, among others. With all these, I think our effective leadership can reconsider the dates of the congress to help Muslims participate fully in the whole exercise".

[ad_2]
Source link