[ad_1]
Chairman of Parliament's Committee on Foreign Affairs says it unfortunate and in bad taste that the U.S. is threatening to impose visa restrictions on Ghanaians.
Frank Annor Dompreh says Ghana has to find a very diplomatic way of dealing with the issue, promising that the committee will delve into the matter.
'We will continue to jaw-jaw about it. I don't think the issue is done and dusted. In diplomatic circles, if someone fires a salvo it is better not to respond in the same measure,' he told Joy News, Thursday.
The threats follow what the US says is Ghana's refusal to issue travel documents for Ghanaians in the U.S. awaiting deportation to Ghana.
The Public Affairs department of the U.S Embassy in Ghana issued a strongly-worded statement warning Ghanaian officials of possible visa restrictions on Ghanaians Wednesday.
Related: I can't sanction deportation of Ghanaians from US – Ghana Ambassador
It explained that Ghana has consistently failed to issue travel documents to citizens awaiting deportation from the U.S.
In December 2016, the U.S. Department of Homeland Security (DHS) identified Ghana as being at risk of non-compliance on removals of those under deportation orders.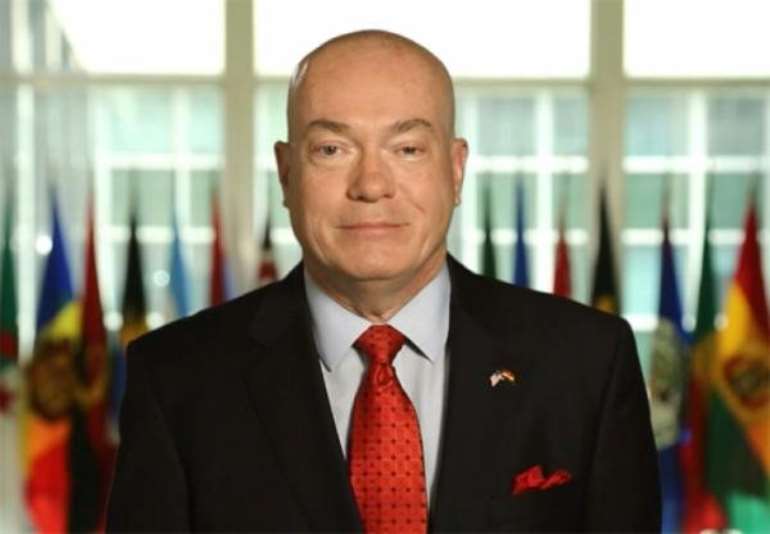 Robert P Jackson, US Ambassador to Ghana
Since then, the U.S. government has repeatedly engaged the Government of Ghana in both Washington, D.C., and Accra and has urged the government to abide by its international obligations and issue the necessary travel documents so that Ghanaians under deportation orders may depart the United States on commercial flights.
If Ghana fails to comply with international obligations regarding the issuance of travel documents, the United States may be forced to begin implementing visa restrictions on Ghana, in accordance with U.S. law.
Related: Ghana risks U.S. visa restrictions for non-compliance of ICAO obligations
Speaking on the issue, the Nsawam-Adoagyiri legislator is optimistic there will be a way out stressing he does not think government has been irresponsible.
Mr Annor Dompre called for cool heads stating caution is needed in dealing with such a sensitive matter.
He told Joy News the committee has engaged the sector minister, Shirley Ayorkor Botchwey, who has briefed them on the matter.
The minority in parliament has since criticized government for failing to uphold its diplomatic responsibility following the threats by the US.
But Mr Annor Dompre said groups and individuals need to be measured in their utterances.
'The NDC must be measured in their criticisms because this did not start during the NPP time. I agree that we are in government and we should be seen to be leading the way,' he said.

[ad_2]
Source link