[ad_1]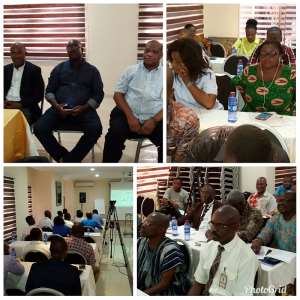 National Media Commission (NMC) in collaboration with Fredrich Ebert Stiftung on Wednesday called on Ghanaians especially stakeholders in the communications sector to support and put in place innovative mechanisms for effective of digital migration move.
Digital Migration is the process where television stations operating on analogue networks would be transferred to digital based transmission networks until the analogue transmitters are eventually switched off, said NMC.
The one-day regional public forum on legal and social implications of Ghana's digital terrestrial migration which was held in Sunyani, aimed at explore regulatory mechanisms and technical issues that ought to be addressed to enhance the road map for the smooth take-off of the digital migration process.
The Executive Director of NMC Mr. George Sarpong in an interview with Space 87.7FM after the forum said consumers who still have analogue Television sets will have to purchase and connect their sets to set top boxes which will receive the digital signals and convert them into analogue signals for the analogue Television sets.
Mr. George Sarpong speaking on advantages of digital transmission over analogue transmission said it gives clearer signal reception- this means that there will be no more blurred images on someone screen and he /she can rest assured of receiving clear pictures which will make him/her entertainment more entertaining.
"A wider selection of channels, through digital transmission, more channels can be transmitted which will give consumers a wide variety from which to choose from. They will be able to view the channels they want and this will improve customer satisfaction" he said.
According to Director, "It will save the broadcasting stations' cost. Transmitting content via digital platform is said to be less costly than transmitting via the analogue platform. This implies that the media houses can capitalize on this as a competitive advantage".
He said over 53 transmission sites have been built across the country to facilitate the take-off in order to meet the deadline next year.
He said NMC as a regulator would have to play its gate-keeping role and therefore needed to enlighten its members on the subject to enable them to have better understanding and appreciate the issues relating to it.
Mr. George Sarpong, said the migration was a global exercise that all countries must adhere to and urged stakeholders in the communications sector to be abreast with the issues involved and asked them to support the move which will soon hit the country.

[ad_2]
Source link