[ad_1]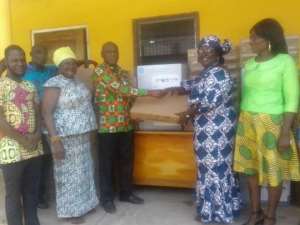 The National Commission on Culture has received some logistical support from government.
This is to ensure administrative efficiency and enable it to organise programmes to inculcate the Ghanaian cultural heritage in the youth.
The items includes; 14 desk computers,12 printers, four computer lap-tops and accessories, five motorbikes and a Sport Utility Vehicle.
Government is also renovating the Commission's headquarters office complex in Accra, while the Executive Director's bungalow is being rehabilitated to give it a facelift.
Madam Janet Edna Nyame, the Executive Director of the Commission, told the Ghana News Agency that, the funding for the items and renovation works came from the one million Ghana cedis allocated to it in the 2018 Budget for capital investment.
So far, she said, GH¢745,599.50 of the allocation had been spent, saying that three of the five motorbikes would be given to the Commission's offices in the three northern regions, while each regional office would receive a desk computer, a printer and accessories.
Madam Nyame said four of the computers would be kept at the headquarters for administrative purposes, while two motorbikes would be used to run errands.
The Executive Director said upon embarking on a nationwide tour of the Regional Offices of the Commission recently, she realised that most of the offices did not have basic logistics like computers and printers for administrative work, hence the decision to re-tool them to perform their constitutional mandate effectively.
'The conditions they are working is so deplorable and that actually touched my heart and so I decided that if government had given us this money let's give them something.
'I'm hoping that next year, the allocation to the Commission would cater for the district cultural offices and community youth centres,' Madam Nyame assured.
The Executive Director appealed to the donor organizations and private sector entities as well as the Regional Coordinating Councils to come to their aid to help preserve and promote the country's cultural heritage.
Mr Stephen Sedofu, the Eastern Regional Director of the Commission, on behalf of the beneficiary regions, applauded the government's efforts to resource them.
He said the logistics would enabled them to undertake research works and help them in reporting purposes and, thus, pledged to take good care of the items.
—Ghana News Agency

[ad_2]
Source link