[ad_1]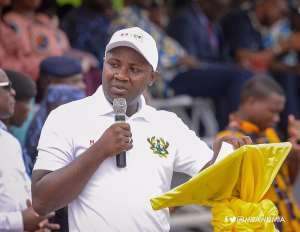 The Chief Executive Officer of the Nation Builders Corps, Dr Anyars Imoro also known as Dr Barihama, has described the NABCO intervention as God sent intervention by President Nana Addo meant to give hope to the many unemployed graduates in the country.
Speaking in an exclusive interview with The Voiceless Media after a National Town Hall Meeting in Techiman, Capital of the recently created Bono East Region on September 9, the NABCO, CEO, was of tremendous praise to the President for this vision- adding that if the NABCO idea had commenced 10 years earlier the collective effect on graduate unemployment would have been extra huge.
Dr Anyars explained that 'Only a government with deep love for his unemployed graduates would direct such huge monetary investments to train and prepare them for permanent employment' he added.
The NABCO CEO, also indicated that the era where MPs from all political parties were under intense pressure to find jobs for their constituents is now the thing of the past. 'It is now the NABCO which is taking the pressure not the MPs' he opines.
The NABCO, which was launched nearly a year ago has seen over 100, 000 unemployed graduates given temporary jobs from which they earn both on the job skills and also a stipend of Ghc700 monthly.
The platform given by the NABCO to the trainees has already made it possible for some beneficiaries to transit to permanent jobs.
It is estimated that about 9000 beneficiaries have since exited the scheme to permanent jobs as a result of the opportunity given them by the NABCO.
Dr Anyars who is also an Aspiring Parliamentary Candidate for the Tamale Central Constituency used the opportunity to remind the trainees not to think that the NABCO was a permanent job for them but must prepare their minds and ready themselves to exit to other endeavors after their training schemes.
[ad_2]
Source link