[ad_1]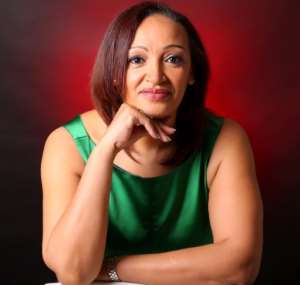 Sonia Poleon
Per the norm, people travel to destinations over the world due to diverse and numerous reasons. Either for adventure purposes, the proverbial recreational holidaying and to some extent exploring the culture, tradition, heritage or the cuisine of the said destination.
But Sonia Poleon's was totally different to any of the above mentioned reasons.
The radio presenter who works for Colourful Radio-UK just woke up one day and decided to visit Ghana according to her for no apparent reason.
She went to sleep at her daughter's and after waking up on a Saturday morning she said: "I just said to her that, I am going to Ghana. And she could not believe it. Asking, out of all the countries in Africa, why Ghana?
"And I could not even answer as to what the actual reason was. Simply because I did not know. But sometimes in travelling, one has to reach their journey before knowing their reason of travelling, and so was mine".
"So upon arrival I decided to know much more about the country, the culture, and the people as I experience life from a different point of view now I think that is why I went there for.
Within a very short space of time you have been to Ghana twice already "Absolutely, and I felt like I was 'home' because as a British who is born out of a Jamaican parentage, I visit Jamaica almost every year.
"And to me it feels like it's noisy with the sounds of reggae music blaring out and that tells you have arrived home in Jamaica.
"And in comparing Jamaica to Ghana upon my arrival, I was pleasantly surprised with respect to the media, the TV and its presentation of contents always depicting Africa in a certain way. And for me, I felt totally at home with the experience of such nature.
"I was able to identify with the people to the extent that, sometimes I could not tell if someone is a Ghanaian or Jamaican.
"The way the markets are set up is similar to that of Jamaica, and I have realised that we eat almost the same food, the difference is just the way it is cooked in Ghana or Jamaica.
Having been to Ghana twice, her first experience was such a surprise "When I touched down at the airport, it was all quite to me as compared to Jamaica.
Comparing Ghana to Jamaica Sonia could not be well enthused as she continues to sing the praises of Ghana saying "And even when boarding a plane to or from Jamaica, and this is my own experience, there is always some noise here and there on the plane.
"So I thought I was going to experience the same thing, but to my surprise, I did not experience same when going and coming from Ghana. Even from the departure lounge at
Heathrow, everyone was quiet and I could not believe it.
"Our departure was a bit delayed so I thought it was going to be chaos or something, yet still, I did not hear any sort of altercations or argument at all. So I say they are lovely people.
"I arrived in the evening, so the next day I head straight to the Makola Market due to the vast amount of research I did, which was great.
"Due to my day nursery in the UK, I am passionate about children and their well-being so I decided to go to any orphanage I could find.
"So I ended up in an orphanage in an area called Teshie in Accra. And upon my arrival I realised that the children are in dire need of bed sheets.
"I searching for people who would help me to collect some old bed sheets or mattresses to send back to the children in Ghana.
"Aside of that I embarked on a cleaning project with Zoom Lion and some of the local people at the beach in Prampram with a good friend of mine.
"I am now looking for people who will help to raise funds for the development of the local school, children and the local people.
"I went to Boti Falls in the Eastern Region, Kakum National Park in Cape Coast in the Central Region, the Three Headed Pineapple, Elmina Castle and finally to Kumasi in the Ashanti Region.

[ad_2]
Source link