[ad_1]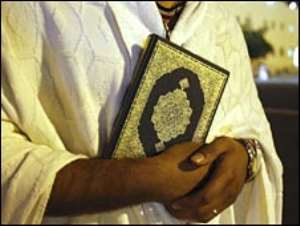 The Chief Imam at the Takoradi Central Mosque Sheik Muhammad Awal Shuaib has reminded the Muslim community to realise that the end of the month of Ramadan is a great reward from Allah to all those who executed good deeds.
He therefore entreated Muslims to devote the festive day in exaltation for Allah by expressing the oneness and greatness of Allah.
Sheik Shuaib was addressing a cross-section of the Muslim community at the jubilee park in Takoradi as part of activities marking the end of Ramadan festival.
He said the festival formed one of the pillars of Islam to give Zakaat-ul-Fitr in the form of food in abundance to people for consumption in showing reverence and obedience to Allah and reminded Muslims to give alms to the poor and needy in society to make the world a better place to stay.
He revealed that meeting in the open for Eid prayers was a mark of the Holy Prophet Mohammed where people met the mercies of Allah and advised all Muslims to turn out for the prayers.
The Western Regional Minister, Dr Kwaku Afriyie asked the Muslim community to desist from divisive tendencies and foster peace, unity and national cohesion.
He assured the Muslim community of government's preparedness to fulfil all her pledges to Zongo communities and appealed to them to rally behind the government in prayers.

[ad_2]
Source link