[ad_1]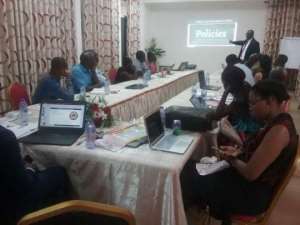 A capacity building workshop held for Civil Society groups has ended in Accra with the pledge to maintaining the campaign on the adherence to the country's forest and mining laws.
Participants developed strategies to provide simplified information databases and formats for educational materials useful for future advocacy work.
The workshop, with funding from the Ministry of Foreign Affairs of the Netherlands, was part of the Green Livelihoods Alliance (GLA) Project being implemented by the Ghana branches of Friends of the Earth (FoE), Tropenbos and A Rocha.
The GLA project is concerned with building a strong civil society for inclusive and sustainable development in forested landscapes of Ghana and eight other countries across the world.
The workshop was timely given the determination of the Ghana government to mine bauxite in some of the country's protected forest reserves despite its extremely damaging consequences.
A statement from FoE-Ghana and copied to the Ghana News Agency said it was keen on highlighting the importance of legal compliance in the mining sector as well as the need to be environmentally and socially responsible.
'The high rate of logging in Ghana and the constant private sector demands for mining concessions in protected forests are very worrying trends, especially for communities relying on the forests for their basic needs and livelihoods,' it said.
The statement said communities threatened by logging or mining as well as Civil Society Organisations (CSOs) that defend community and environmental rights, had crucial role to play in the monitoring of logging and mining companies to ensure they did not step beyond the bounds of Ghana's laws.
FoE-Ghana, which has been a leader in supporting communities to monitor timber companies for legal compliance, urged participants to further educate the communities and civil society groups they work with to ensure they build their capacity to effectively monitor mining and logging operations in their localities.
It urged Civil Society and communities to be proactive as they could only make inputs at the 'consideration stage' in the law-making process.
The consideration stage is when Parliament makes changes to draft bills and that is the stage when civil society and communities can make inputs and request for amendments.
It quoted Nana Tawiah Okyir, a resource person from the Taylor Crabbe Initiative as saying: 'This is when communities and civil society can make their views known and lobby for change'.
Mr Dennis Martey, a Lawyer at Taylor Crabbe, touched on Ghana's minerals and mining law and how this sits within Ghana's Constitution.
He said it was significance for civil society to know that they could find out the location of mineral rights and details of the right holders in the Register of Mineral Rights by the Minerals Commission.
He called for a reform of the existing legal system to ensure a mandatory Environmental Impact Assessment (EIA) prior to the award of permits instead of after, as is currently the case.

[ad_2]
Source link