[ad_1]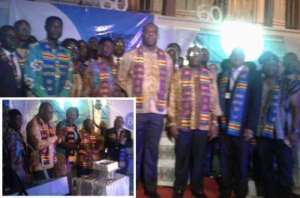 The Education Minister, Dr, Matthew Opoku Prempeh, has called for stronger partnership between the Ghana National Commission for UNESCO and the private sector in the promotion of peace and economic growth.
The United Nations (UN) specialized agency's mission is to contribute to the building of peace, eradication of poverty, sustainable development and intercultural dialogue.
Ghana has received enormous benefits from the Organization in the areas of education, scientific research and cultural endeavours.
It has granted scholarships, fellowship and study grants to many Ghanaians to study in world-class institutions abroad.
Dr. Opoku-Prempeh speaking at the launch of the 60th anniversary celebration of the National Commission for UNESCO, in Accra, said there was every reason to celebrate the gains made through the country's association with it.
He added that its contribution to the nation's development had been tremendous.
The event was attended by Ministers of State, the Diplomatic Community, members of the Commission, Heads of Department and Agencies.
The Commission started as a Committee for UNESCO Affairs in 1953 when Ghana became an Associate Member of UNESCO.
On April 11, 1958, when Ghana attained full membership of the UN agency the Committee was reconstituted under the new title 'Ghana National Commission for UNESCO'.
The Commission serves as the official link between the Government of Ghana and the Organization.
Dr. Opoku-Prempeh said the establishment of Department of Library and Archival Studies at the University of Ghana, the National Film and Television Institute and the Institute of Educational Planning and Administration at the University of Cape Coast (UCC), were some of the good things, that had come from 'our association with UNESCO'.
He also made reference to its support for construction of a modern science facility at the UCC.
The Minister said since the Commission became a member of the global body, it had played instrumental role in shaping the nation's educational and scientific policies.
Mrs. Ama Serwaa Nerquaye-Tetteh, the Executive Secretary, outlined activities planned for the celebration and these include laying of a foundation tone for the construction of an office complex, the launch of the country's first Museum of Light at the National Museum of Science and Technology and hosting of this year's World Press Freedom Day.
There would also be drawing and essay competitions for basic schools.
The highlight of the celebration would be the Commission chairman's dinner in November.
GNA
By Godwill Arthur-Mensah, GNA

[ad_2]
Source link