[ad_1]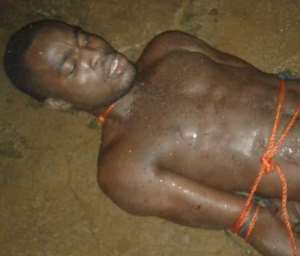 Kofi Atta
A man believed to be in his 30s has done the unthinkable by killing his biological mother in a bizarre manner.
The suspect Kofi Atta reportedly used an object to hit the head of the woman who fell heavily.
Auntie Akosua Yeboah was conveyed to the hospital for treatment but died upon arrival.
The unpleasant incident happened at Amoaman in the Atwima Nwabiagya District of the Ashanti Region on Wednesday.
Kofi Atta, who acted strangely prior to the incident, is in custody of the police assisting in investigations, DAILY GUIDE learnt.
Reports indicated that even though Atta doesn't have a history of mental disorder, he behaved strangely in recent times.
"On Saturday, Atta acted like a mad person and was arrested by the police and later released. The suspect became normal for a few days only for him to start acting strangely again on Wednesday morning, the residents disclosed.
Eyewitnesses said at about 3:30am on Wednesday, Atta, without provocation, hit the mother's head with an object.
The woman bled profusely and fell heavily, and the matter was reported to the police who struggled to arrest the suspect.
According to eyewitnesses, Atta was unusually strong and the police struggled to transport him to the station for questioning.
The police tied the hands of Atta and also handcuffed him.
Some people suspected that Atta was under a spell due to his strange behaviour.

[ad_2]
Source link