[ad_1]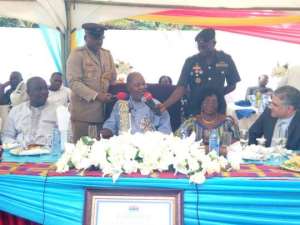 Lieutenant General Emmanuel Alexander Erskine (Retired), the first Commander of the United Nations Interim Force in Lebanon (UNIFIL), has been recognized for his distinguished military career.
Proud of his outstanding performance when he led the international force created by the UN Security Council, the Ghana Armed Forces (GAF), last Friday presented him with a citation, plaque, photo album of his days in the Middle East and other gifts.
This was timed to coincide with the 40th anniversary of the creation of UNIFIL.
The ceremony was given added colour by the presence of some of the finest retired senior officers of the GAF including three former Chiefs of Defence Staff – Major Gen Ashley-Lassen, Lt Gen Joshua Hamidu, and Air Marshal M. Samson-Oje, a former Chief of Army Staff, Major Gen S. Odotei, and Major Gen C. B. Yaache, Chairman of the Veteran Administration, Ghana.
UNIFIL was established in 1978 to confirm Israeli withdrawal from Lebanon, restore international peace and security and assist the Lebanese Government in restoring its effective authority in the area.
The mandate, however, had to be adjusted later on because the seismic developments in that conflict area.
Lt. Gen Obed Boamah Akwa, the CDS, said through that singular performance during the UNIFIL operations, he had won international admiration not only for himself but Ghana and its armed forces.
He added that Gen Erskine accomplished a lot in the troubled space of the Middle East in a time when peacekeeping in Lebanon was more dangerous.
The Defence Minister, Mr. Dominic Nitiwul, congratulated him for the honour brought to his country and himself.
Lt Gen Erskine paid tribute to peacekeepers' – at the peril of their lives had been doing everything to save innocent and vulnerable people, caught in conflicts.
He appealed to the government to support the GAF to celebrate veterans who went on peacekeeping missions because it was not an easy assignment as some of them 'do not even return'.
He added that it was time that the GAF mark their achievements over the years, saying 'if no one praises us, let us praise ourselves'.
Mr. Ali Qazzan, the Charge D'Affaires of the Lebanese Embassy, said UNIFIL had been more than a peacekeeping force and had actually brought peace to his country.
The soldiers provided them with basic social amenities, which made life bearable even in the times of the crisis.
He said Ghana's relationship with Lebanon could only grow stronger.
GNA
By Julius K. Satsi, GNA

[ad_2]
Source link