[ad_1]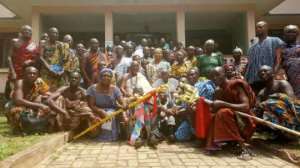 Togbui Afendza III, Dufia of Kpando Fesi has called for unity in the traditional area towards the instalment of a paramount chief for the Akpini Traditional Area.
He observed that previous paramount chiefs were denied endorsement by majority kingmakers, resulting in decades of chieftaincy disputes weakened the Akpini State, which must be not be entertained.
Togbui Afendza who was addressing chiefs and elders of the three Akpini divisions; Gbodorme, Anyigbe, and Atsiafume at an annual meeting, said a new paramount chief would mark the dawn of a new epoch, and appealed to the people to rally behind the next "Akpinifia" for a common good.
"The dignity of the paramountcy must be restored. If we all work hard, within months to a year, we can have a paramount chief so I can hand over the mantle of leadership to this great land and it's people to him", he stated.
Togbui Afendza entreated the chiefs and people to continue to hold sacred, the customs and traditions of the land, and maintain a dignified traditional council that would birth a befitting Head.
He said the customs and traditions of the land protected the heritage of the people and secured the legitimacy of the paramountcy, therefore, they must be upheld, preserved and passed on to future generations.
Togbui Afendza said the lack of knowledge in customs and traditions had discouraged some chiefs, prominent individuals and the youth from taking up the peace initiative.
He praised the efforts of the Volta Region House of Chiefs and the Togbui Ayim Reconciliation Committee it formed to end the dispute, and promised to 'stick to the process and let it guide our future dealings".
Togbui Afendza said the annual Dayibakaka festival, which had not been held for over 40 years would be revived to open up the area for rapid socioeconomic development.
He called on the youth, warrior groups and natives living in the diaspora to rejuvenate community spirit and help develop the area.
Mr Oliver Atsu Abada, a member of the Gbodorme division told the Ghana News Agency (GNA), the leaders of the Akpini State had "clearly exhibited genuine willingness to reconcile the Akpini State for growth.
He also noted that unity among the divisions was crucial to the appointment of a substantive paramount chief who would be accepted by all.
Chiefs of the Anyigbe Division in September 2017, performed pacification rituals, and in October same year, held a reconciliation durbar to seal a peace accord.

[ad_2]
Source link