[ad_1]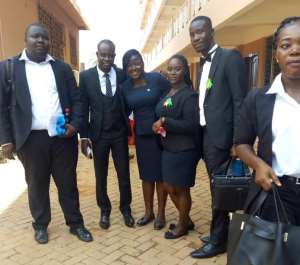 Political and legal researcher, Prince A. A. Sadat, who is also a law student have charged the necessary stakeholders in the legal fraternity to tackle the issue of rape head-on.
His call came on the backdrop of allegations of rape leveled against Mr. Anthony Forson, President of the Ghana Bar Association, by a Canada-based Ghanaian lawyer, Kuukuwa Andam.
He shared his taught on the issue on his Facebook Wall which was sighted by www.modernghana.com.
Below is his full statement on Facebook:
"And we woke up to the news of one Kuukuwa Andam whom I am told is a Ghanaian Lawyer and a Canadian based law lecturer to the effect that she was raped by no mean a person than the President of the Ghana Bar Association, the respected senior lawyer, Mr. Anthony Forson Jnr. somewhere in December, 2012 in Washington D.C. The timing for me, is quite weird. Though the jurisdiction in which the alleged crime took place, Washington D.C., I am told have statute of limitations of 15 years, what would have accounted for her 7 year waiting period?
According to the story, she had previously been raped by one Selasi a year earlier. And it really baffle's my mind why she targeting Mr. Forson Jnr and not Selasi. Is it because he is the President of the Ghana Bar Association and she wants to ride on his popularity to fame? These allegations are becoming one too many, and it really calls for a second look at this canker called RAPE.
The definition of rape itself is problematic. According to the law, rape occurs when one person penetrates another with their penis without the consent of the person being penetrated. This makes it a crime which can be committed by men and not women. What about the instances that a woman forcefully have intercourse with a man against his will?
The ugly reality is that some people are misusing the very serious charge of rape as a way to gain an upper hand, get revenge, or otherwise harm other person. They use rape as a means to settle personal scores with the targets. The results of such a false accusation can be devastating, even if the person wrongfully accused is ultimately acquitted. Unfortunately, the topic of rape is so touchy that many are unwilling to do anything about a false claim.
Still, the consequences of a false report of rape can be devastating to the life of the one accused. Often, the mere suggestion that a person has done something is enough to convict them in the court of public opinion. This can have life changing effects, lead to loss of employment opportunities, public ridicule, and emotional harm especially in this era of media freedom.
As a result, it is usually possible for one wrongfully accused of rape to fight back. Typically, one will have to wait until they are exonerated, but once proved innocent of the false accusation, some jurisdictions allow them to bring a civil suit against the accuser. Notably, this action cannot relate directly to anything that was said or done in the criminal prosecution, as that is generally protected by the litigation privilege. But, false statements to police, to the media, or to family and friends may give rise to civil liability. Additionally, in jurisdictions that recognize a civil cause of action for perjury, if the accuser provided false testimony, either in person or via affidavit (such as a police report) this may also form the basis for additional relief.
In 2011 in Maryland, a man was awarded $852,000 and full custody of his children after he was able to prove that his ex-wife had falsely accused him of sexually assaulting their daughters. The ex-wife had accused the man of sexually assaulting the children in order to gain an advantage in a custody dispute. This led him to lose his job and find it almost impossible to obtain another for 5 years while he fought the legal battle to clear his name. While much of the damage done by the false accusation can never be undone for the wrongfully accused man, the verdict does send a clear message that such conduct cannot be tolerated in the American legal system.
In Ghana for instance, before 5th May, 2016, rape was a non-bailable offense in our laws. Section 96 (7) of the Criminal and Other Offences (Procedure) Act, 1960 (Act 30), which was amended in 2002, provided that "a court shall refuse to grant bail in a case of terrorism, treason, subversion, murder, robbery, offences listed in Parts I and II of the Narcotic Drugs (Control, Enforcements and Sanctions) Law, 1990 (P.N.D.C.L. 236), hijacking, piracy, rape and defilement or escape from lawful custody or where a person is being held for extradition to a foreign country''. But thanks to lawyer Martin Kpebu, who went to the Supreme to argue that bail was directly linked with liberty, which was a fundamental human right guaranteed by Article 14 of the 1992 Constitution. In a 5-2 majority decision, the panel held that the law was unconstitutional because it "was inconsistent with Article 19 (2) (c) of the 1992 Constitution and, therefore, null, void and of no effect". So, the mere fact of an allegation by an alleged victims would have meant that the freedom of movement of the accused would be curtailed.
In most jurisdictions, rape is regarded a capital felony and can be charged when the victim is younger than 12 and the alleged perpetrator is 18 or older. Life imprisonment without any possibility of parole or a sentence of death may occur with conviction of these crimes. But when the victim is 12 or older, the crime is usually charged as a second degree felony with a maximum sentence of fifteen years in prison. There may be elevated charges with certain circumstances.
The outright denial by Mr. Forson, through his attorneys, Beyuo & Co., raises more questions than answers. This case, together with similar cases lately, should be of serious concern to the relevant stakeholders and players in the legal regime. The earlier we address it the better for all of us.
Till then, let's see how Ms. Kuukuwa will distinguish herself in the witness box if indeed her allegations pass the test of the police investigation and charges are pressed on the accused".
Background
One Kuukuwa Andam revealed on Facebook that she has filed a criminal case against the renowned lawyer in Washington DC, USA.
According to the lady, the alleged rape occurred in the US in December 2012, and to buttress her claim, she attached what she referred to as the details of the hotel in which she was allegedly assaulted, as well as the communication between her and the GBA boss on Social Media.
In a response, lawyers for the GBA President said: "Our client, Anthony Forson JNR's attention has been drawn to a post on one Miss Kuukuwa Andam's Facebook page that he committed an offence of rape against her sometime in 2012.
"Mr. Forson sincerely and emphatically denies that he has committed any such offense against the said Miss Kuukuwa Andam. He maintains that the allegations are palpably false and in due course he will be vindicated".
"Mr. Forson will like to thank all those who have by various means shown concern and support for him and his family during this trying period".

[ad_2]
Source link