[ad_1]
Professor Goski Alabi, Vice Chancellor of Laweh Open University has said that the institition represents the answer of many Ghanaians who'd have found themselves on the fence as far as University Education is concerned.
Speaking at the school's matriculation to officially welcome fresh students for the new accademic year to the institution, the Quality Managament Professor challenged the students to take advantage of the Unique programs the school offered and build a future for themselves.
Recounting her own matriculation at the University of Cape Coast, she had this to say: "I recall vividly when the Vice Chancellor told us, do not just go through the university, let the university go through you" and explained "this means, let the university mold and tranform your life for greater impact".
She impressed upon the students to reflect the ideals of the university and be worthy ambassasdors whose conduct and attidutes can have positive impact on society.
She informed the gathering that the school operates "an all inclusive education" that makes it possible for all manner of persons including those in prisons to have a university education that positions them to be properly intergrated into society and bring their lives back on track.
She intimated that with Laweh Open University, higher education is no longer the preserve of a select few because it is structured to be affordable along with a flexible fee payment structure and conveniet for people to work, have time for themselves and their families bacuase the course stracture is very flexible.
She revealed that "Laweh is cjurrently the only university in Ghana, accredited to Recognize Prior Learning and use it as an entry pathway to the university and we are guided by the National Recognition of Prior Learning Policy under COTVET".
She assured the matriculants that they made the right choice "by joining Ghana's primier 21st Century digital university" and should look forward to growing together with the university which was seeing only its second matriculation and the very first stand alone one because the first matriculation was done concurently with the annauguration of the Governing Council of the School.
The students were challenged to take advantage of the LMS-Laweh, an internet aided Learning Management System with Virtual Classrooms that allows students to participate in live lectures, ask questions and make inputs and also make use of the electronic library that has "over 30,000 own stock and over 1million stock of ebooks, and journal articles in subscription"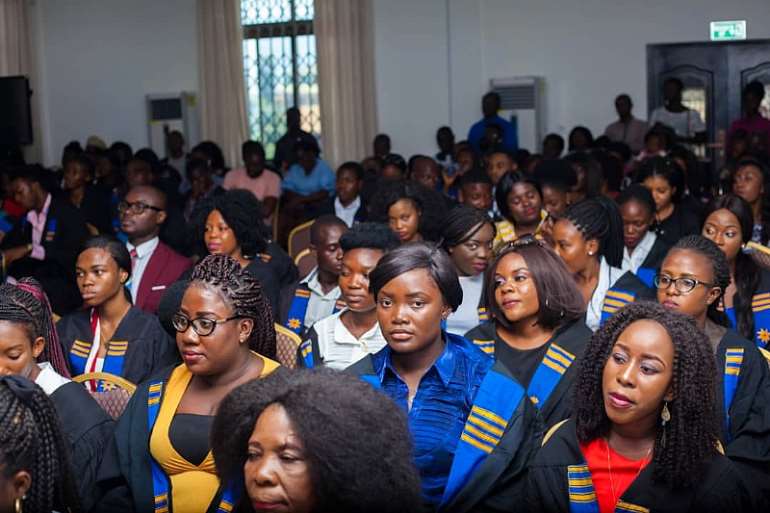 Being a global partner of Open University of Tanzania, Laweh was established in 2014 and accredited by the National Accreditation Board to offer certificates, diplomas, degrees and postgraduate qualifications.
Due to the unique course content and teaching approach, the University is not affiliated to any local university and that it affiliations globally position students to own certificates that are internationally accepted.
She pointed out that, "the university currently runs 9 programmes five (5) Master Degree programme and four (4) Undergraduate programmes and in the process of rolling out 15 new programmes, which are at the final stages of accreditation and likely to be rolled out by next academic year".
"These include PhD in Educational Leadership and PhD in Technology Education, PhD in Business Administration, and PhD in Development Economics. Other programmes inclvude Communication, Public Relation, Project Management, Information Technology and Education at Masters and undergraduate levels".
Laweh- GAB Foundation Scholarship Scheme
In 2017, the University in collaboration with the GAB foundation instituted a scholarship scheme for people with special needs. Currently, 3 awardees have benefited from this scholarship.
She encourage persons with special needs who are qualified to enter the University but need financial assistance to apply to the scheme.
She pointed out that, " The University is also rolling out more scholarships for brilliant but needy people and these would be published very soon"
.

[ad_2]
Source link