[ad_1]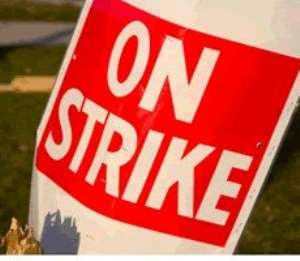 Laboratory Technicians across the country say they can no longer wait for government to correct salary discrepancies detected in 2012 after the introduction of a new equitable public pay policy.
Leader of the Association of Medical Laboratory Scientists David Gyasi told Joy News, laboratory technicians with diplomas were supposed to be ranked same or similar to diploma-holding nurses.
But they have been worse off since public service workers were migrated to the of single spine salary structure.
He described it as a "great discrepancy".
The Association has been at the National Labour Commission along with government to resolve the irregularities since 2012.
The lab scientists were dragged to court by the National Labour Commission in 2016 after it went on strike over the same issue saying the strike action was not legal.
NLC action was also aimed at getting them to return to the negotiations table with the Ministry of Health.
At its annual congress in Eastern region in 2017, the Association passed a resolution to take steps leading to a strike.
The Association concluded diplomacy has failed and that a "more radical approach" is necessary to shock government out of its "nonchalant posture".
Although that issue was negotiated then to get them to go back to work temporarily, Mr Gyasi lamented, "up to date no resolution has been made."
If corrected, the lab technicians could be paid arrears dating back to 2012.
The Lab Technicians dropped a clearer hint on May Day when they marched wearing red bands. The next step is to withdraw Out-Patient Department Services and then later Emergency Services.
"We are going to get to that point," he said and revealed May 21 as the day for a total withdrawal of services.
The Blood Banks would be the hardest hit if the strike escalates because the technicians are important in determining the blood need of patients.
Story by Ghana|myjoyonline.com|Edwin Appiah|[email protected]

[ad_2]
Source link