[ad_1]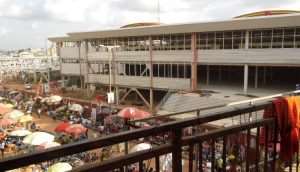 The Kumasi Metropolitan Assembly (KMA) has hinted of plans to demolish some illegal structures at the Kumasi Central Market to help decongest the area.
This follows the hospitalization of some five persons who became unconscious in a stampede at the Kumasi Central Market.
Congestion at the Kumasi Central Market has worsened following the barricade erected as part of the ongoing redevelopment of the Kejetia bus terminal.
Godwin Okumah Nyame, Public Relations Officer for KMA told Citi News, some of the barricades have been cleared to ease congestion.
"The measures that we have put in place have to do with the opening of a section of the area that we have cordoned. We had to open part of it in order to create space for pedestrians and just as we did that, we realized that the congestion there had gradually reduced. So those who have their tables and chairs around that area will also be removed", he added.
Stampede at Kumasi Central Market
On Monday, it was reported that a stampede had occurred at the Kumasi Central Market.
The incident is said to have left some five persons hospitalized.
There was heavy congestion at Kejetia following city authorities' decision to cordon off some parts of the market to pave way for its redevelopment of the market.
Persons who had gone to the market struggled to find their way into the market area.
Officials of the Ghana Police Service went to the scene to ensure order.
Kumasi relocation exercise: Traders' livelihoods secure – KMA
In August this year, the Kumasi Metropolitan Assembly (KMA) announced that it would soon begin processes to re-settle traders who were relocated from the Kejetia bus terminal ahead of the redevelopment of the facility.
Phase one of the project, which involved the reconstruction of the Kejetia Market, began in 2015.
The facility, which was due for completion in January this year, was delayed following some legal issues the Assembly had with private developers at the project site.
The second and third phases, which will cost €248 million, will entail the renovation of the Central Market and will be done in two parts.
The Kejetia Redevelopment Project site includes about 8,300 selling points, police stations, banks, two sewage treatment plants and a day nursery, among other facilities.
Osei Assibey Antwi, Chief Executive for the KMA assured that traders who will be relocated for the second and third phases of the project to begin, will not lose their livelihoods.
"On record, none of the traders working at the Kumasi Central Market will go and sit in the house for even a day", he assured.

[ad_2]
Source link