[ad_1]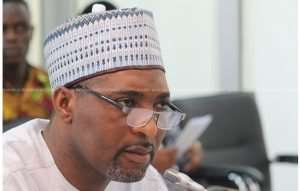 The Asawase MP, Alhaji Mohammed Muntaka Mubarak has raised concerns over what he considers to be lack of government action following the allegations of police brutality towards the Zongo community in Kumasi after the police killed seven young men in Asawase.
In a Facebook post, he said "our 7 brothers who were killed by Police in Ashanti Region are still not buried 10 (ten) days today."
Following the killing of the men on July 17, the government said it was going to commission an independent probe into the incident.
The independent probe is intended to bring some clarity to the matter, but Muntaka Mubarak said he is "deeply worried" over the delays.
Relatives of the seven men have said the Kumasi police framed the deceased persons by planting weapons on them.
The police however insist they were engaged in a shootout with the seven men, who were believed to have been involved in the killing of a police officer earlier in July.
Though the autopsy report has not been made public, there are reports that the autopsy indicated that some of them were shot at close range, contradicting earlier reports from the police.
Whilst trying to avoid turning the death of the seven men into a political issue, Muntaka said he had "a big responsibility to represent every constituent of mine regardless of his/her background."
He suggested that he has been making calls to persons close to the Presidency to expedite action on the probe but to no avail.
"Please for heaven sake those with the responsibility of reminding the President must pick my call or better still get the President to do the right thing by composing the committee and letting all of us know the members. Time is of great essence to us, so that we can get justice for our brothers and be able to bury them with dignity."
The killing of the seven men ignited tensions between the Zongo community and police in Kumasi.
The Zongo community has long held that they are stereotyped and targeted by police, and thus protested for days against the perceived police brutality.
The tensions have since calmed amid assurances from the government.
Possible compensation
The Minister of Zongo and Inner City Development, Boniface Abubakar Siddique has indicated the families of the seven will be compensated if investigations exonerate them.
"If it happens if they were innocent but killed, definitely [they will be compensated] because they will have lawyers to defend their case."
"Within the shortest possible time, we should get everything done. It will not be more than one month," the minister stated in relation to the formation of the committee.

[ad_2]
Source link