[ad_1]
The Ghana Journalists Association (GJA) has condemned the seizure of mobiles belonging to some members of the Judicial Press Corps on the instructions of Accra District Magistrate Court judge.
The press corps petitioned the Chief Justice over the conduct of the Efua Sackey during the proceedings of the case involving the CEO of Obengfo Hospital.
Dean of the Judicial Press Corps, Wilberforce Asare, said it was wrong for the judge to have barred them from carrying out their work.
'The instruction the judge gave which was carried out was illegal. She does not have the right to instruct that our phones and other gadgets be seized. Inasmuch as she has the right to warn us not to use those devices in court, she cannot seize them,' he said.
According to him, the Judicial Service has organized several training programmes for them so they know the do's and don't's in the covering court proceedings.
Efua Sackey who is presiding over the case involving the Chief Executive of Obengfo hospital, Dominic Obeng Andoh on Wednesday ordered the seizure of mobile phones belonging to some journalists who were in court to cover the trial.
The judge before the beginning of the hearing ordered her Court Warrant Officer (CWO) to seize the phones.
She explained that the seizure was to prevent the journalists from recording court proceedings.
Her recent action follows a similar one during the last hearing of the case, where she instructed journalists to report to the registrar of her court to seek clearance before accessing the court.
The Ghana Journalists Association has since expressed concerns about the situation.
The General Secretary of the Association, Kofi Yeboah, said the judge's actions undermine the constitutional right of journalists.
'If the Supreme Court thought it wise to invite the cameras into the court, which is unprecedented in the history of the country, to let the whole world know what is happening, then why should Efua Sackey be doing this?' he quizzed.
He said the Association is in full support of the petition by the Judicial Press Corp.
'We have issued a press release in support of their action. We believe this is something that will undermine our democratic and national development,' he added.
Below is the GJA statement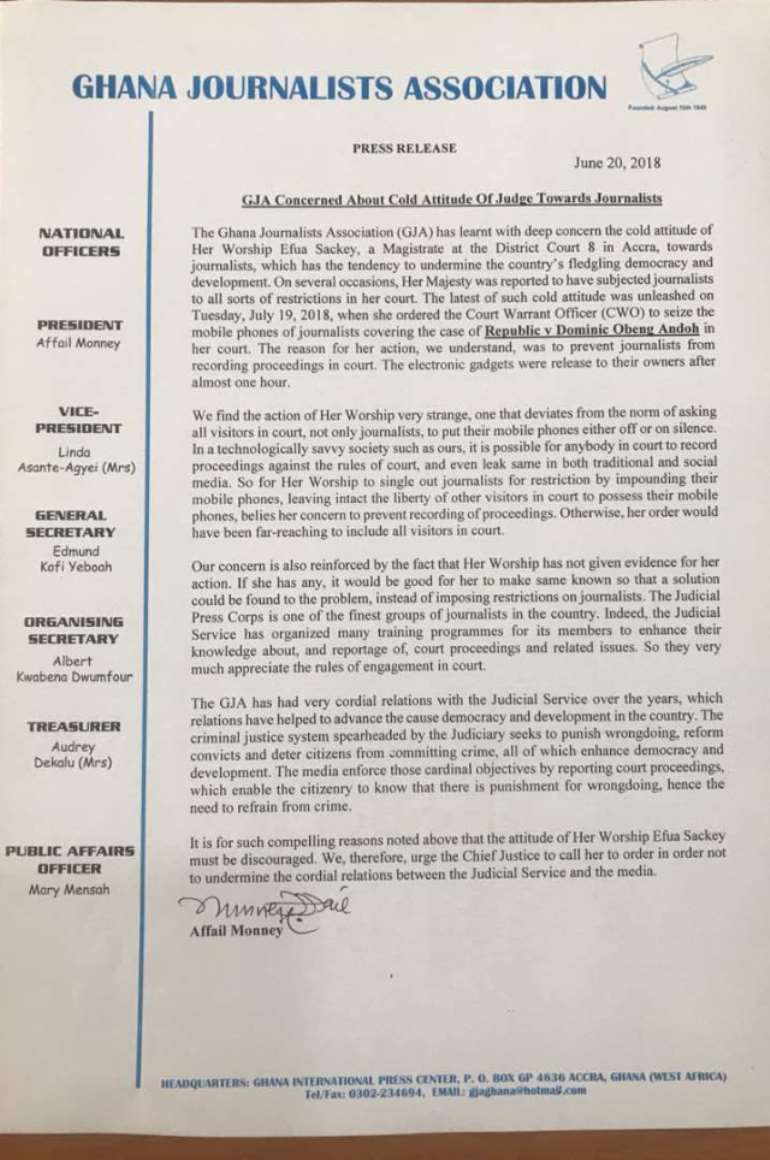 [ad_2]
Source link