[ad_1]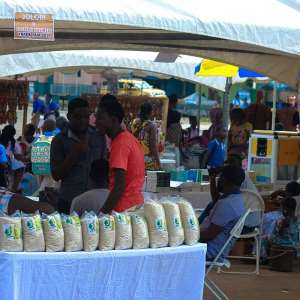 Businessmen and traders have commended the management of Joy Daddy Multimedia (JDM) for initiating a Fair to help portray their products and services to the general public.
Speaking to Bryt FM reporter at the first day of the Eastern Business Trade Fair organized by JDM (Aben 94.9fm) in collaboration with Planet One Multimedia, at the Koforidua Jackson Park, participants were of the notion the platform given them would go a long way to sell their activities to a large number of customers.
They indicated, first day of the Fair was encouraging and that, they expect to have a bumper sales at the end of the exercise.
"Today's sales have been good so we hope to make more sales by the close of the Fair. We are grateful to you for your care and opportunity given to some of us" some exhibitors told the stated.
Some patronizers of the Fair who could not hide their excitement, also, hailed organizers for the initiative as they think it has brought many products and services to one place, making it comfortable to shop at one destination.
Meanwhile, Director of Radio/Programs at JDM, Owoahene Kwabena Acheampong, said, management considered holding the Fair as part of its responsibility to promote local businesses as well as services.
He was of the view, it would help market activities of small and medium enterprises by giving them the platform to showcase their products for the needed response.
Mr. Acheampong added, his outfit would continue to initiate such programs and policies that would, have positive impact on Ghanaian businesses as part of its cooperate social responsibility.
"We are inviting all businesses to join us to sell their products no matter where they find themselves. We are also giving exhibitors live interviews on Bryt fm, Dadi fm and Bryt TV" he revealed.
The Fair which started on Wednesday 27th November 2019, will be closed on Sunday 1st December 2019.
[ad_2]
Source link