[ad_1]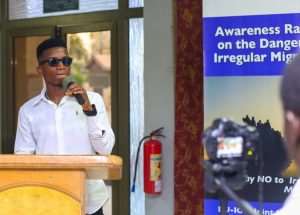 IOM Ghana has launched a campaign to raise awareness on the dangers of irregular migration using a song titled, "No Place Like Home," by the 'Confession' hit artiste Kofi Kinaata who was nominated as IOM Ghana's Goodwill Ambassador on Safe Migration.
The song and video, available on YouTube (https://youtu.be/oFukHyBS1YU), encourages the youth to be critical about migration and do so in a regular manner.
The campaign song promises to be a hit and expected to have a good impact to discourage the youth from migrating through irregular means. The 3-day campaign targets young people in the Western Region, one of the main areas of origin for Ghanaian returnees from Libya.
As a Goodwill Ambassador on Safe Migration, Kofi Kinaata accompanied IOM Ghana staff, Ghana Immigration Service (GIS) officers and members of the European Union Delegation to Ghana to his alma mater, Takoradi Technical Institute (TTI) to speak to the students on the dangers of irregular migration and the importance of making informed decisions.
The Ghanaian rapper and songwriter was appointed the UN Migration Agency's first Goodwill Ambassador in November 2017 to promote safe migration in Ghana. As an Ambassador, through the song, but also through direct engagement with communities and youth, Kinaata will support the Agency's awareness raising campaigns.
The development of the song and video "No Place Like Home" was supported by the German Federal Foreign Office under the project "Aware Migrants – Engaging Communities in West Africa."
Drawing inspiration for the song from personal experiences of friends from Takoradi who have migrated irregularly as well as from a recent trip to the Brong Ahafo Region where he accompanied IOM on a sensitization tour, the Ghanaian rapper warns of the dangers of irregular migration.
In 2016 alone, 5,636 Ghanaian migrants arrived in Italy by sea, an increase from 4,431 in 2015. Most Ghanaians trying to reach Europe travel through Libya, where currently tens of thousands of the estimated 700,000 migrants living in the country suffer horrendous human rights abuses.
Since June 2017, under the EU-IOM Joint Initiative on Migrant Protection and Reintegration in Ghana, IOM has supported the return of 496 Ghanaians from Libya, and is in the process of facilitating their reintegration in their communities of return.
Awareness raising sessions were carried out with communities in Takoradi, New Takoradi and Sekondi in the Western Region through community events, focus group discussions and radio talk shows.

[ad_2]
Source link