[ad_1]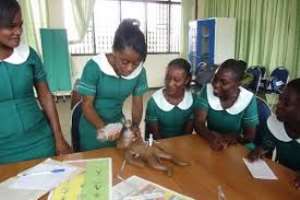 Midwifery Students
Rise-Ghana, a Non-governmental Organisation (NGO) has called on government to consider Midwifery as a core part of universal health coverage.
According to the NGO, 83 percent of all maternal deaths, stillbirths, and newborn deaths would be averted if the government suppor, and invest in midwifery.
This was disclosed in a statement signed and issued by the Executive Director of Rise-Ghana, Awal Ahmed Kariama, on Saturday, in commemoration of the International Day of the Midwife.
Statistics shows maternal mortality rate is still unacceptably high at 320/100,000 live births.
A high maternal death rate is an indicator of an inadequate health care system, including those that offer poor and only limited access to health services.
It also indicates that a woman's fundamental rights to life and health are being violated.
Rise-Ghana believes quality midwifery care is central to achieving national and global priorities and securing the rights of women and newborn infants.
"82% reduction in maternal mortality possible with universal midwifery coverage. Midwifery is associated with reduced maternal and neonatal morbidity, reduced interventions in labor, improved psycho-social outcomes and increased birth spacing and contraceptive use," the statement read.
The NGO further used the occasion to thank their partners and donors such as UNICEF-Ghana, CDD-Ghana/Hewlett Foundation and the Australian High Commission in Ghana for the huge technical and financial investment over the years to improve the quality of care, universal health coverage, strengthen health systems towards better maternal and child health outcomes.
[ad_2]
Source link