[ad_1]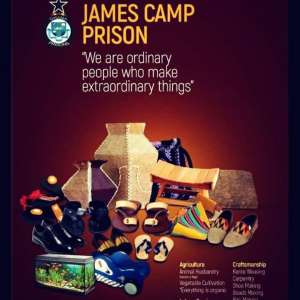 Visitors who were at the Alliance Francais Exhibition Center, Thursday and Friday were taken aback at the sight of the beautiful artifacts which were on exhibition at the James Camp Prisons show stand, during a 2-day promotional show, which brought together both local and international artisans showcasing their wares.
The exhibited products by the James Camp Prison were under Craftsmanship, Agricultural and Home and Baby décor.
Some of the products were Kente, royal sandals 'ahenema', beads, shoes laced with African prints, necklaces, bags among others.
Other wares were African print clothing, kitchen sets, bedroom sets, polished furniture etc..
Deputy Director of Prisons (DDP), Patience Baffoe-Bonnie, who is the Officer in Charge of the Mamobi Prison, had this to say about their latest craft, which is a customized football aquarium,
"We are working on customized football aquariums for the football season, and interested persons who want a particular player featured, can place an order so we factor it into the final product"
She went on to mention other crafts as flower pots, bedroom sets, kitchen sets, Clothing line among others.
The James Camp Prison plans coming out with organic vegetables, Rabbitary, bee making among others.

[ad_2]
Source link