[ad_1]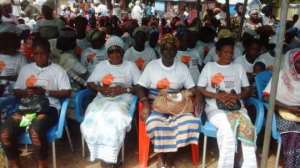 The Minister of Gender, Children and Social Protection, Mrs Cynthia Morrison, has said the HIV/AIDS prevalence rate has gone up again and urged health workers and campaigners to intensify public education nationwide.
The warning comes after government early this year raised concerns about the deadly virus spreading fast in recent years especially among the youth.
The concerns follow a revelation by the Ghana AIDS Commission that new cases of HIV infections in the country have climbed up to nearly 80 percent in 2017, raising fears among HIV/AIDS campaigners and health officials.
Speaking in Lawra at the launch of Ti Deltaa Women's Group, a community-based non-profit organisation, focused on fighting poverty in the savannah zone of Ghana, Mrs Morrison urged community leaders to support the public education campaign to help contain the spread of the virus.
The Minister told the teeming crowd gathered for the launch of the women group that two boxes of condoms containing 8,000 pieces have already been given to the Ghana AIDS Commission to start public education in communities.
She urged health workers and officials of the commission to start the campaign immediately.
The Ti Deltaa Women's Group, which is an initiative of the Member of Parliament of Lawra, Mr Anthony Abayifaa Karbo, taps into the idea that social mobilisation of the poor especially women into self-help groups remains the surest path to fighting abject poverty.
The group serves as a microfinance scheme and targets 5,000 women from its five zones in the Lawra Municipality namely: Eremon, Brifoh, Zambo, Babile and Lawra.
Mr Edmund Puoviel, Chairman of the Group, said the group seeks to enhance the flow of resources to rural communities as a measure of poverty alleviation.
It also serves as productivity and efficiency building mechanism for community development in rural areas of the municipality.
Mr Puoviel said 3,050 women have already registered with the group which would actively pursue savings mobilisation as a component in a bid to strengthen the repayment capacity as well as building capital for future investment.
The Member of Parliament for Assin Central, Mr Kennedy Agyapong, who was eskined a development chief [Tengmaal Naa] of the Lawra Traditional Area, donated GH¢20,000.00 to support activities of the NGO and another GH¢10,000.00 to the Traditional Council.
He was given the skin name by Naa Puowelle Karbo III, paramount chief of Lawra Traditional Area as Naa Kennedy Dery Agyapong.
Source: GNA

[ad_2]
Source link